The last few years have seen Indian real estate sector witness a quiet revolution, owing to a growing economy and a positive government attitude, which includes a liberalised foreign direct investment regime. The IT and ITES (Information Technology Enabled Service) sector growth further had a domino effect since for every square foot of developed office area, around 10 square feet of residential space needed to be developed for accommodation of the employees.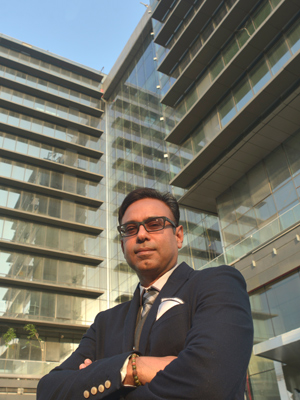 Almost 80 per cent of real estate developed in India is residential space and the rest comprises of offices, shopping malls, hotels and hospitals. After agriculture, real estate sector is the second largest employment generator in India and contributes heavily towards gross domestic product (GDP). Five per cent of the country's GDP is contributed by the housing sector. In the next five years, this contribution to the GDP is expected to rise further.
Real estate sector is also responsible for the development of over 250 other ancillary industries such as cement, steel, paints etc. A study by rating agency ICRA (Information and Credit Rating Agency) shows that the construction industry ranks third among the 14 major sectors in terms of direct, indirect and induced effects in all sectors of the economy. Apart from the huge demand, India also scores on the construction front.
The real estate opportunity
Commercial segment opportunity
A growing economy leads to increased commercial activity and development. It enjoys a competitive edge in the commercial real estate as it has a vast pool of intellectual capital and is highly cost effective.
Typically, the yields on commercial properties are between 10 per cent and 12 per cent pa along with built-in escalations. An investor buying this property can borrow amounts against the property and its future rentals leading to an additional yield of about 3 per cent due to the arbitrage. Even assuming a modest annual appreciation, the total returns work out in the range of 17 per cent to 18 per ccent pa, which translates into an excellent investment opportunity.  The other factors driving investments are rising occupancies, on-the-rise rentals and pricing, higher growth in demand vis-à-vis supply. Of course factors like location, infrastructure, connectivity, facilities and amenities also play a major role. The rate of growth of IT/ ITES sector in the country has also fuelled opportunities in the commercial segment.
Residential segment opportunity
According to the report of the Technical Group on Estimation of Housing Shortage, an estimated shortage of 26.53 million houses during the Eleventh Five Year Plan (2007-12) provides a big investment opportunity. Increased incomes, easy availability of finance, favourable interest rates and tax benefits have ensured that there will be a huge demand for residential properties. This opportunity is not limited only to the metros but percolates to Tier II and Tier III cities as well. No wonders then investors are looking to tap this huge investment opportunity.  

Key challenges
Approval processes : Multiple approval authorities and processes lead to project delays during various stages. Simplifying the approval process will lead to fewer time and cost overruns and better products and services for customers.
Ramping up execution : The construction processes in India are highly labour-intensive. However, new technologies such as Mivan and prefabs are being extensively used today. The quality of finishing material is improving. Progressive construction firms have their own labour training institutes which impart training to external as well as sub-contractors. This, along with the technologies mentioned above, will be able to take care of the execution process.
Legal framework : Land laws in our country are archaic and very little has been done to simplify these. To this day, land remains a state subject, and every state has it own set of rules. Languages in which land documents are registered are different. The regulatory framework still is a big challenge.
Quality and timely delivery : Today, people have travelled around the globe and are more aware of quality and hence dictate terms. If any business is not delivering on quality and time, that business will not be able to survive for a long period of time.
Infrastructure : The key to any development is to have a well-developed infrastructure in and around the location. With government focussing on developing infrastructure in the country, more and more projects are expected to be announced.
Government initiatives
The government has introduced many progressive measures to unlock the potential of the sector and also to meet the increasing demand levels.
Hundred per cent FDI allowed in townships, housing, built-up infrastructure and construction development projects through the automatic route, subject to guidelines as prescribed by DIPP (Department Of Industrial Policy & Promotion).
Hundred per cent FDI allowed under the automatic route in development of Special Economic Zones (SEZ), subject to the provisions of Special Economic Zones Act 2005 and the SEZ Policy of the Department of Commerce

  The verdict
Real estate in India is a big opportunity. The rapid urbanisation, nuclear family concept, higher disposable incomes, easier availability of credit, younger population, growing Indian economy, government focus on development of Infrastructure etc will lead to huge demand. This demand will spread over to the Tier II and Tier III cities and not merely restricted to metros. Further, this demand will be across all segments.
India's GDP has grown significantly and the country has emerged as one of the fastest growing economies in the world. The stock markets have done well and so have the IT/ ITES sectors.
We are also seeing public listing of real estate companies and their boards largely comprising of independent directors. This brings in more transparency, accountability and professionalism in the way business is carried out. It also contributes in the development of reliable indicators of value, such as brands, in the real estate sector.
On a larger level, we hope the real estate sector evolves the way the auto sector has evolved where there is a product for everybody. So while you have a premium offering at one end of the spectrum, for customers who can afford it, you also have a product for the mid-range and a product at the other end of the spectrum. Every person should be able to buy the product based on his or her purchase capacity.
Real estate and Godrej Properties
Godrej Properties has been in the real estate business since 1990 and has grown considerably in revenue, profitability and scale since its inception. As of today, Godrej Properties is present across 12 cities in India and has more than a 100 million square feet under development. It has always been an endeavour for Godrej Properties to uphold the mother brand values that have made Godrej a household name today, a name synonymous with trust and reliability.
(Girish Shah is the Chief Marketing Officer, Godrej Properties Ltd. He heads the sales and marketing vertical at the GPL.)