Suicide occurs an unlucky 13 times in Shakespeare's plays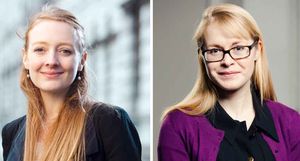 And I'll be sworn upon't that he loves her;
For here's a paper written in his hand,
A halting sonnet of his own pure brain.
―Much Ado About Nothing, 5.4.85-87
When Shakespeare wrote, "Two loves I have," reader, he was not kidding.
―John Berryman, American poet and scholar
SHAKESPEARE'S sonnets are among the most accomplished and fascinating poems in the English language. They are also some of the most beloved. First published in 1609, they continue to be read, recited aloud, reprinted and written about. They persistently inspire creative works, including dance, music and poetic responses. And, because they remain central to an understanding of Shakespeare's output as a poetic dramatist, they are among his most studied works at school and university level around the world.
As we approach the quatercentenary of Shakespeare's death, it is worth thinking about what the sonnets mean today; about why they inspire such a committed readership among students and scholars, why they continue to be a standard against which contemporary writers measure themselves, why people still turn to them at moments of high ceremony and high emotion, and why a very small book produced in London so long ago still commands our attention in the modern world.
Part of the answer to such questions must lie in the sheer immensity of what Shakespeare managed to achieve. The sonnet form, which had been borrowed into English from Italian some 50 years before he was writing, was seen as rather old-fashioned by the time Shakespeare's poems appeared. The 1590s had been the heyday of English sonneteering, in which collections by Philip Sidney, Edmund Spenser, Richard Barnfield, Samuel Daniel and others appeared. It may have been during this period that the young Shakespeare began work on his own sonnets, driven, as he often was, out of a desire to compete with the best literary minds of his generation―and to show them he could go not one but many steps further.
Shakespeare's sonnets appeared belatedly yet took this literary form to new and exciting heights, just when nobody thought it had anywhere else to go. His distinctive verbal brilliance―the way Shakespeare crystallises all of human life into a poetic instant―is a kind of virtuosity on display throughout his works, but it is perhaps most vividly captured in his sonnets; 154 poems of 14 interwoven lines that form a loose sequence.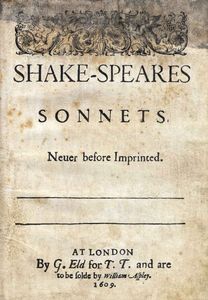 The sonnets are addressed to two different subjects, often called the Fair Youth and Dark Lady, though these phrases are never actually used in the sonnets themselves and, indeed, many of the poems do not even specify a male or female addressee. Many attempts have been made to make a narrative out of Shakespeare's sequence, to detect a story of sexual jealousy and competition for the affections of the poet, yet the poems themselves resist this, each remaining complete in itself and not easily fitting into any larger story. Wordsworth wrote that 'with this key/ Shakespeare unlocked his heart'. Many attempts have been made to read the poems autobiographically, to suggest possible identities for the two lovers (or even different identities for Shakespeare himself). While again, such efforts are often far-fetched, the feeling that Shakespeare is vividly and humanly present in the sonnets persists, and those who feel the sonnets must be close to his own life are responding to this sense of verisimilitude.
While the sonnets may create a fiction that only seems like autobiographical reality, they do convey the historical moment in which Shakespeare lived. Writing in a period that saw the end of Elizabeth I's near 50-year reign, changes in national religion and the seeds of political discontent that would result in the execution of a king, Shakespeare compresses big ideas into tiny poems. His sonnets often speak to us with immediacy, yet they also reveal the particular language of his moment: his 'brave' means not courageous but ostentatious, 'character' means not identity but handwriting. Identity is always and only written in these poems, though, despite their claims that writing is impotent. In Sonnet 26, Shakespeare claims that his writing is so 'poor' that he does not 'dare to boast how I do love thee', before another 128 poems doing largely just that.
The sonnet form itself can also help explain the enduring power of Shakespeare's lyric poems. Each poem is often built around one key image―or conceit―exploring a metaphor by turning it inside out. Sonnet 153, the penultimate in the sequence, finds a lover whose only cure for his lovesickness lies where he caught it in the first place: 'my mistress' eye'; Sonnet 125 finds eternity 'more short than waste or ruining'. The 'volta', or turn, that comes in the latter lines of each sonnet gives this particular force, allowing a poet to radically rethink his or her own ideas within the security of a tightly constrained form.
In Shakespeare's sonnets, this two-part structure is complicated by the fact that the poems naturally fall into three four-line stanzas (quatrains) and a concluding couplet, which often resolves, sums up or complicates the underlying message of the poem. This version of the sonnet is known as an English or, more commonly, Shakespearean sonnet, such was his mastery of its form. There is tension within the sonnet form then, that contributes further to its energy, particularly when in Shakespeare's hands.
Another reason Shakespeare's sonnets are remembered today is that they themselves are deeply concerned with the act of memory. One of the preoccupations of Shakespeare's series is with how the poet and his lovers will be remembered after they are gone. As such, the sonnets make a particularly fitting place at which to pause and commemorate Shakespeare himself. The themes of loss, grief, the passing of time, mortality, and posthumous remembrance that pervades the sequence have proved enduring. Shakespeare explores such terrain as a way of thinking about what poetry itself can do, about the potential for his poems to outlast him. When Shakespeare imagines his sonnets as 'the living record of your memory' he speaks of each reader's ability to bring life to his verse, as well as his verse's ability to memorialise the beloved. The poems are themselves acts of memory, and testaments to all that Shakespeare has inherited.
The influence of Shakespeare's predecessors―English and Italian―and the pressing rivalry of his contemporaries, which drove him to such glorious experiments in theatre, provoked a burning desire to emulate and perhaps even surpass the past. Shakespeare drew upon this as a source of inspiration; it was also a shadow he had to step out of. He now casts, perhaps, the longest shadow of all. Writers have vied with this element of his reputation from the first appearance of his plays and poems. Simply put, how does one write after Shakespeare? Milton wrote that Shakespeare's death 'makes us Marble'; the reader becomes a monument to Shakespeare, but is also struck silent by the brilliance of Shakespeare's own poetry.
Yet, Shakespeare's sonnets continue to inspire responses today. Recent rejoinders to the sonnets by poets Jan Bervin, Philip Terry and, most successfully, Don Paterson, attest to the cultural vibrancy attaching to these poems. In our new collection, On Shakespeare's Sonnets: A Poets' Celebration, contributors, including Simon Armitage, Jo Shapcott, Paul Muldoon, Carol Ann Duffy and Roger McGough, have produced their own personal poetic response to the sonnets. Sometimes, they write in sonnet form. Sometimes, a metaphor or even a single word sparks their imaginations. Sometimes, they write to, about or against Shakespeare.
The book contains love poems, angry poems, poems of grief and loss, funny poems, and mysterious poems. In this variety, it echoes Shakespeare's sonnets themselves. All of human life is in them, and in our poets' work, too. In every instance, they echo Ezra Pound's dictum of writing poetry: 'Make it New'. They make Shakespeare's language afresh, and at the same time remind us of the freshness that is already there within the sonnets.
All of this makes the sonnets a particularly fitting place at which to pause and remember Shakespeare. Shakespeare died on April 23, 1616, which may have been his birthday. That his life should seemingly end on the anniversary of the day it began is apt, for Shakespeare's death represents the start of a long and vibrant afterlife for the poet's works.
Crawforth and Scott-Baumann teach at King's College, London. The book, On Shakespeare's Sonnets: A Poets' Celebration, edited by them, will be published by Arden in 2016.