Academies for boys flourish. If you have a son, and he wants to play cricket, your problem is choosing where to enrol him. If you have a daughter, well, good luck.
According to Dr Johnson, "a woman's preaching is like a dog's walking on his hind legs. It is not done well; but you are surprised to find it done at all."
When I was rather younger, this pretty much summed up my attitude, and those around me, towards women's cricket. For example, when I was around 14, I played cricket against Clare Connor. Connor, who is now director of England women's cricket, was at the time an active international cricketer, and would go on to captain the Englishwomen's team a year after I played against her.
My teammates and I did not take her seriously at all. She batted at number eight, as I recall, and when she came in, there were a number of mocking comments made just in earshot about how we had better up our game now that there was an international cricketer at the wicket.
And then, the first ball she hit, the bowler stopped it and melodramatically shook his palm and fingers, pretending that it had been hit so hard that he was badly hurt. For some reason, we all found that extremely funny, so that's what we did during her entire innings.
I recount this with considerable embarrassment. My only excuse, for what it's worth, is that at 14 we are all in many ways ignorant (and later, too, but that's another story). And it is a pleasure to observe that, in the heady aftermath of the Indian women's cricket team's World Cup campaign, such attitudes seem very far away, a relic of another world and time.
The march to the World Cup final captivated the whole of India. Mithali Raj, Punam Raut, Jhulan Goswami, Harmanpreet Kaur, Veda Krishnamurthy... these are household names now. Their exploits thrilled and gripped us. More importantly, we found them worthy of admiration, rather than condescending approval. No one praised Kaur's innings in the semi-final as a great knock for a woman cricketer—it was celebrated for what it was, one of the all-time great knocks, period.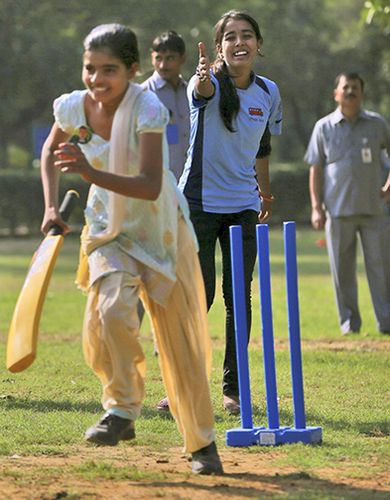 Even before the final, and most definitely since, the plaudits have kept pouring in. Tweets from Narendra Modi and Sachin Tendulkar, cash awards from the BCCI and state governments, rewards from the Indian Railways (which employs 10 of the 15 cricketers in the squad). It feels like a watershed moment for women's cricket in India. As Mithali Raj put it after the final, "These girls have really set the platform for the upcoming generations in India. They have opened up the channels for women's cricket." And they really have. Thousands of girls would have been inspired by the team's campaign, by the stars created during it. Just as importantly, at least some of their parents would also have been inspired, and will now be more open to the idea of their daughters playing cricket, maybe even pursuing the sport to a high level.
But, the success of the Indian women's team has come about despite the system, rather than because of it. One could list chapter and verse, but here just a couple of examples will do. At the national level, only 11 players have central contracts. At the domestic level, the Railways and, to a lesser extent, Air India are the only organisations that employ women cricketers as such and allow them to earn a reasonable living from playing first-class cricket. And this is at the very top of the game.
In other words, you could be one of the best 100 women playing cricket in India, and you would still struggle to make a living from the sport. If the cricketers themselves are in this situation, what do you think the investment in coaching and support staff is like at the domestic level, let alone the national level?
It goes deeper than that. The women at the first-class level have already, in a certain sense, 'made it'. Not financially, certainly, nor in terms of social status, but they have managed—God alone knows how—to pursue their passion, to play the sport they love to a high standard. But, they have done so largely through luck and their own efforts. There is no organised system for grassroots participation for girls, and no organised system for their development.
Academies for boys, on the other hand, flourish. If you have a son, and he wants to play cricket, your problem is choosing where to enrol him. If you have a daughter, well, good luck.
There is no denying the achievement of the Indian women's team. They deserve everything they are getting, and more perhaps. But, we need to celebrate it properly. One level of celebration, of reward, is the level we are seeing. Awards noisily announced, grand ceremonies promised, big cheques written. There will be felicitations, ministers will be photographed with Mithali Raj and Harmanpreet Kaur, celebrities will give interviews about what this means for girls in India, pundits will write about the coming of age of Indian women's cricket.
This is good. But, if this is all there is, if this is the only result of the 2017 World Cup, the team's efforts would not just go to waste, they would be dishonoured.
We are a country in love with symbols; sometimes, symbols at the expense of reality. We pat ourselves on the back for being one of the earliest countries to have a female prime minister, and conveniently ignore how a huge number of girls and women are treated in day-to-day life. We elect a dalit as the president of India, and gloss over the fact that almost 50 per cent of dalits are illiterate. We revere Gandhi as the father of the nation, and act against virtually everything he stood for.
My fear is that this dynamic will play itself out now with regard to the Indian women's cricket team and its achievement. The easy part is what is happening now under the glare of the cameras. The hard part is the unglamorous work of building systems and institutions, of working patiently to bring about long-term social and cultural change. The hard part is what eventually matters. And it is a lot less likely to be done.
Allow me the indulgence of concluding with another anecdote. In the winter of 1993, I stepped off a train and onto Howrah station. The platform was littered with filth. The stench of sewage and rotting food was high in the air. The ground was stained dark, and people chewing paan were busy adding to it. In the middle of all of this, the railway authorities had erected a sign: "Cleanliness is next to godliness".
If the only result of the 2017 World Cup is the current media attention, the grand ceremonies and felicitations, while nothing is done at the grassroots level or to bring about institutional and social change, all we will have as a legacy will be that sign, surrounded by the symptoms of its own refutation.