All excluded items must be brought under the ambit of GST.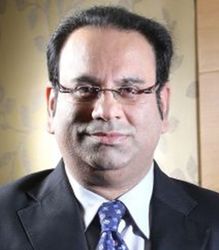 India's GDP growth averaged about 7.5 per cent between 2014-15 and 2016-17. Although growth in the current year is expected to slow down a bit, recent numbers on economic activity show that the momentum is back. Now is the time to capitalise on the inherent strengths of the Indian economy and give it the required impetus to achieve high growth over the longer term. The Union Budget 2018-19 offers the finance minister a great opportunity to lead the economy on to a high-growth trajectory.
The finance minister needs to continue the reforms, focusing on stimulating investments, boosting demand, rationalising taxes and addressing some of the key policy hurdles. I suggest a 12-point agenda to steer the economy successfully through the year.
One, the government should continue laying strong emphasis on capital investments. Public spending on infrastructure and social sector should be kept up to stimulate growth. This may require slight calibration of fiscal deficit target. The government can consider monetising its developed infrastructure assets/idle assets of PSUs to raise more resources.
Further, lowering the cost of finance for industry is an imperative. The RBI should consider cutting policy rates by at least 100 bps. The government should work in tandem with the RBI to enable reduction in policy and lending rates, which is desired to propel demand for interest sensitive sectors such as consumer durables, auto and housing. Lower interest rates will also help in having a competitive exchange rate.
Two, the government should continue to address all pending issues related to implementation of GST, especially to ease the compliance requirements related to GST for MSMEs. There is a need to move towards three rates in line with the international best practices and to make the GST reforms truly effective. All excluded items must be brought under the ambit of GST.
Three, the government should consider consolidation of public sector banks to create globally-sized banks and bring in efficiency. The government should also consider divesting its stake in public sector banks to enable them to raise capital from the market.
Four, surplus land along rail lines and stations, and land along major transport corridors could be set aside for commercial activity.
Five, A simplification and rationalisation of multiple labour laws into four codes was announced earlier. This should be completed and the government should ensure that the framework of labour laws puts in place adequate flexibility for enterprises, while incorporating appropriate safety and security for the workers.
Six, there is a need to promote trade receivables and discounting systems (TReDS) among MSMEs through planned marketing campaign and provide incentive on usage of TReDS platform. This will provide them a good avenue to manage liquidity.
Seven, various parallel regulatory approval processes by multiple regulators should be minimised to ensure that business activities are not hindered for lack of coordination between various regulators or cumbersome procedural formalities.
Eight, the government can consider establishing regulation-free zones, wherein all regulatory requirements, except those for national security and health, can be relaxed. This can be done to encourage establishment of new-age, high-technology and innovative industries.
Nine, special impetus needs to be continued for certain key sectors like housing, as these can have a multiplier effect on demand creation across industries.
Ten, specific policy measures may be introduced to increase exports of Indian companies. The skewed balance towards imports needs to be corrected to encourage fresh investments by domestic companies. This requires a complete review of FTAs.
Eleven, to disincentivise use of cash, RBI could prescribe mandatory cash handling charges for current accounts of all banks above a particular threshold. A rewards/incentives scheme should be introduced for merchants as well as consumers for doing digital transactions. There is also the need to work towards greater integration of various digital platforms.
Twelve, for small entrepreneurs, the government could consider introducing a scheme of 'one tax-one pay', wherein all types of taxes and levies are removed and one single payment is made on annual basis. The government may consider linking all clearances and licences within the Udyog Aadhaar Memorandum.
Somany is senior vice president, FICCI.