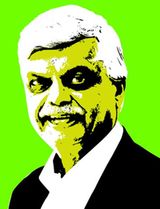 A year ago, when Narendra Modi began his tenure as prime minister, his problem was exactly the opposite of the one that Manmohan Singh had to deal with a decade earlier. In 2004, Singh assumed charge with few expecting him to work wonders. Expectations were low.
In 2014, Modi became prime minister with the country and the world hoping he would be the miracle man who would pull India out of a cul-de-sac that the second Singh government had pushed it into. Expectations were high.
In 2004, Singh already had an established global reputation as an economic administrator, but at home nobody thought of him as being made of prime ministerial timber. Moreover, as someone who was 'nominated' to his job, and not elected, Singh's challenge was to acquire an individual political persona at home.
In 2014, Modi was swept to power on a wave of unprecedented popularity, the like of which had not been seen since Indira Gandhi's victory in the early 1970s. His image at home was that of a decisive political leader and capable administrator. What he needed was to refurbish his diplomatic credentials and change his global image for the better.
Modi began his tenure with two problems: first, he had to deal with the challenge of high expectations at home; second, he had to demonstrate his foreign relations capabilities internationally, setting at rest anxieties about what kind of India he would want to lead.
His advisers may well have encouraged him to over-perform abroad, making a mark globally, so as to partly deal with the high expectations problem, while doing the best he can at home. The economy was anyway at rock bottom and so, it may have been assumed, a little bit of this and that can only help growth pick up and any improvement in numbers would earn the government some brownie points.
This would explain Modi's determined focus on foreign policy—a front on which his performance has been exemplary. It was not just clever diplomatic moves, like inviting south Asian leaders to his oath-taking ceremony and addressing the Indian American community at an overcrowded Madison Square Garden venue, that marked Modi's foreign policy forays. He has given meaning to the idea of India pursuing an "independent foreign policy" in an increasingly "multipolar" world by seeking to improve bilateral relations with all major powers and, at the same time, giving teeth to the idea of strategic partnership with 'like-minded' countries.
However, the mistake that Modi and his advisers made was to assume that the economy would somehow respond positively to a change of government. It did not. The government's first budget was disappointing. Investment did not pick up. The economy was saved by a crash in oil and commodity prices, but unseasonal rains and weak performance of agriculture created agrarian distress. In trying to address the complaints of business, and getting the land laws changed, Modi landed himself in a corner, allowing himself to be painted as pro-business, anti-farmer and anti-poor.
The ignominious defeat in Delhi assembly elections, needlessly projected by his own advisers as a vote of confidence in the prime minister's leadership, forced Modi to change tracks. The self-confident Modi of May 2014 gave way to a more tentative personality, who chose to project a pro-poor image to even the editors of Time magazine.
What then is the moral of the story? Modi was correct to worry about the problem of unrealistically high expectations at home. But his strategy to deal with it, by focusing on foreign affairs, has proved to be wrong. India's international stature is intrinsically linked to its domestic economic performance and social and political stability at home. Foreign policy is not about events and agreements. It is about ensuring that the world has a stake in India's future.
Modi has obviously understood this. Having delayed taking decisions that would have spurred investment at home, he chose to switch tracks and focus on pro-poor policies, extending the reign of fiscally unsustainable subsidies, while making it easier for business to make in and make it in India.
At the end of his first year in office, Modi no longer looks like the 'Superman' he was thought to be a year before. Perhaps this is for the better. People's expectations may now be more realistic and if he delivers on these lowered but realistic expectations, he may still win over the electorate when he goes back to it.
If Singh's personality had waxed at the end of his first year in office, Modi's may have waned a bit. Singh was seen as more of a leader after a year in office, while Modi is seen as more of a mortal at the end of his first year. That he had tears in his eyes as he spoke to the editors of Time magazine about his early life humanises a man who is viewed by his fans as God and by his critics as Devil.
Modi's political power and clout today is built on the same foundation as it was a year ago: his track record as a good administrator and a political long-distance runner. Not only does he remain unassailable within his own party, but he remains miles ahead of competition. That is not a bad place to be in at the end of a year in office.
The author is director for geo-economics and strategy, International Institute for Strategic Studies and honorary senior fellow, Centre for Policy Research, New Delhi