Why is so little attention given today to painting landscapes? It is pertinent (and politically correct) to shift our gaze to the crisis of urban settlements and pavement dwellers, as has been ably depicted by artists Sudhir Patwardhan, Ghulam Mohammed Sheikh, Gieve Patel and several others of this genre. But in the bargain should we deny ourselves the pleasures of delighting in the colours and abundance of trees and water, earth and sky?
An essential and vibrant genre in the early half of the 20th century, painters now have abandoned landscape—it forms the background. Among the seniors, Paramjit Singh seems to be alone, stubbornly devoting his life time to mastering the richness of textures, colours and forms found in nature. This is one reason why the film by Amit Dutta fascinates us in bringing us close to appreciating nature and, in the second half of the film to Paramjit's commitment. He appears 30 minutes after the opening, moving silently through the forest.
The film is long, 70 minutes, intriguing us with its title The Seventh Walk. This documentary proceeds without explanations, sans words or dialogue throughout 70 minutes; we hear only sounds of the wind blowing through trees, of water dancing, the rustle of leaves, the songs of birds, and yes the scratching on paper of pencil and crayon as Paramjit works in his studio at Andretta. Since he is a man who speaks very little, this seems entirely appropriate. The silence and sounds from nature fill us with wonder and suspense. What will come next?
Andretta is a village in the Kangra valley where I once had bought a little land and dreamt of building a house. Others too had this dream but few fulfilled it. Arpita and Paramjit did, and he would draw and paint there in the 1980s looking out from his window and his vision opened to fields of long grass, tall trees, golden paths winding through forests, a little blue rivulet suddenly—all that we have around us but forget to see! When I walked after this film I found myself looking with wonder at the colours and forms of palm fronds, peepal leaves, mango blossoms.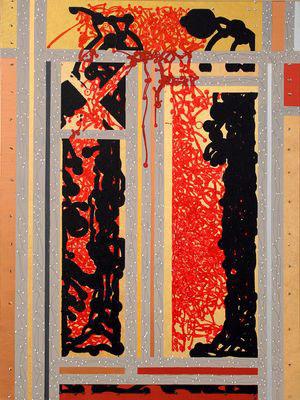 The JDCA may be among few to hold a festival every January devoted to films only on art and artists. This includes folk art and crafts as for example the sculptors in the lanes of Kumartuli, artists of 'patachitra', protagonists of the Ram Lila, as well as contemporary artists. Over nine years of this festival leading directors have made their presence.
Two iconic artists at the 10th anniversary were Paramjit and Amitava Das—here they spent time together, but their work could not have been more different. If Paramjit's paintings are tactile, colourful and inspired from nature, Amitava's paintings are shown in Bikram Singh's film to be brooding, inspired from literary readings. One work is titled War and Peace, and an earlier show was titled after Kurosawa and Shakespeare as Throne of Blood. The emphasis on blood spattered all over the canvas is evident, as seen in his image of the goddess cutting off her own head in Chinnamasta.
Amitava's emphasis is not on nature but man, more recently from 2000 the Robot man. The body or the head, is all wired up, declaring the age of electronics which none of us can do without. His colours have moved from black and reds and yellow to the use of metallic silver, gold and copper. If Paramjit's colours bring harmony to the universe, Amitava's use of primary colours speak in a strong vocabulary of alienation.
These two films and talks by the artists led to reconsidering the value of both. A third film on the Norwegian artist Edward Munch was equally compelling, showing his stubbornness to persist despite controversies. The auction of his iconic work titled The Scream which sold for over two million dollars is conveyed through silence, not the bidding prices. The message is that the life of the artist matters, not a single work which was certainly not his best.