The retrospective of Himmat Shah, one of the most powerful shows of the year, is just about to come to a close. Assembled by the Kiran Nadar Museum in New Delhi and curated by Roobina Karode, it is now displayed at the Jawahar Kala Kendra in Jaipur. The sculptures in bronze and terracotta seem very appropriate in the magnificent building by Charles Correa, which is laid out in an ambitious concept based on cosmology. Three Himmat Shah bronzes are placed in the courtyards between galleries, and their forms are also created with angular projections reaching out to the cosmos.
Himmat was born in Gujarat's Lothal, which has yielded pottery from the 4000-year-old Indus valley culture. He chose to first work in the humble medium of clay and terracotta, by creating jars and heads, primordial in shape and at the same time modern in sensibility. How this effect is achieved together remains a mystery. As he says, "human life is an enigma. And what he creates should also be an enigma…"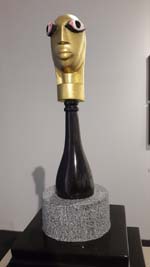 Himmat's heads are truly enigmatic; each has a strange anonymity, and yet is as different in form and feeling as much are individual people. A series of five heads appear with smooth surfaces in grey and copper and gold. One has furrowed brows, and in profile appears with the savagery of open jaws. Another gleaming gold has eyes lowered like a meditating Buddha. Yet another in grey is defined with a copper cross for the nose and mouth, while yet a fourth is defined with the mesmerising eyes used in Nathdwara icons of Krishna. Each head is an icon brooding on the past and the future.
Then there are heads which are superimposed against the torso, with a sensuous woman's face juxtaposed with the shoulders. A whole torso, with apertures for the eyes, mouth and belly, is reminiscent of the large storage jars used for preserving grain. These were exhibited by Haku Shah in a show twenty years ago, titled Maati, Form and forms of Mother Earth. There is a remarkable correspondence between the primeval forms of village art and the contemporary show of Himmat.
The exhibition at the Kendra showcases a film showing Himmat working himself on the potter's wheel. Photographs show him in the open desert with a primitive bhatti, a furnace built of wood to cast his creations into terracotta. His work reflects the views of Group 1890 formed in 1963 of which he was part, where artists worked individually but shared ideals to return to an indigenous vision. It was coincidental that he was felicitated at the Jaipur Art Summit of talks, workshops and shows. His work returns to reverence for the earth as a primordial link between man and clay.
If Himmat's heads are sombre and stark, his drawings are playful and imbued with energy. Worked in pen and ink and brush, they are wiry lines that dance upon paper. They too create a universe of feeling, suggesting the interconnection between one thing and another. One drawing is poignant, depicting a single tree in the vastness of the desert and beside it a tiny figure—capturing the feel of isolation in the wilderness. In colour, his small paintings are in raw red, yellow, black, with confidence moving boldly across paper.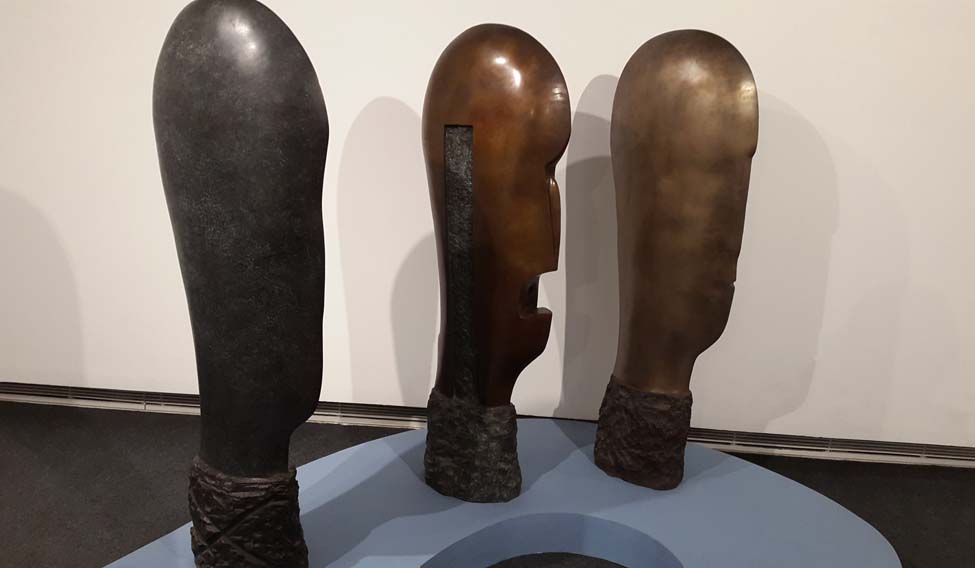 An insightful film on the artist was screened at the Jaipur Art Summit, directed by Jyotirmoy Bhattacharya with the commentary written and narrated by the legendary actor Soumitra Chatterjee. This was truly a 'portrait' of Himmat Shah, speaking as he brought shape to one of his forms in clay—most of the film is shot while he is working on the wheel in completing one head. The commentary explores his background of running away from his family at ten years, and his evolution, with his education at Baroda. For an artist who is intense and enigmatic, he is eloquent in his statements. When one keeps searching one lives. The moment one ceases to search, one dies.."