The artist stretches his or her memory and imagination to create a painting. Stretched Terrains thus is an appropriate title to the show curated by Roobina Karode at the Kiran Nadar Museum. The terrain covered is truly ambitious and well conceived, presenting works by Husain, Raza, Souza and Padamsee who were major players in the Bombay Progressives Group of 1947. Stretching the terrain are experiments with Padamsee by Nasreen Mohammedi and Nalani Malani, a section on women artists—Navjot, Pushpamala and Mithu Sen—and a remarkable installation created by Atul Dodiya as tribute to these artists.
As for Husain, he sums up his own work (and life) in his own words: "I reach for the sky, the stretch of my canvas is unknown to me."
The section on Husain titled Yatra: Rooted Nomad brings us many early works of his toys rarely shown, and paintings of village life in India. There is the proverbial bullock cart, a woman churning butter, the village well and the masjid. He resorted in the 1950s to images familiar and typically 'Indian', which partially explains his popularity in India and abroad. At the same time in works like the Puppet Seller he is soon exploring the vocabulary of modern art, boldly with dissected forms and brilliant colours. Room II brings us a large work from 1956 with these images assembled as a mosaic, as a vast panorama of rural life. This is Husain before he visited Europe, exploring motifs which later came to be his stock vocabulary. In the centre is sprawled a tiger against the silhouette of a red elephant—the absurd and the real brought together.
Husain loved the absurd, and he drew swiftly, from his imagination as well as memory. The second room introduces us to drawings by Husain, to reveal the fact lesser known of his being an astute draftsman. There are his series on Bombay such as the Gateway of India, the cages in Falkland Road, tall buildings with signs at Flora Fountain.
More significant are a set of 16 works of pencil on paper from 1957. These are not quick doodles but studies done when he visited Europe. The bust of a woman wears a bow-tie, another woman turns into an umbrella, the torsos of a man and woman are seen naked. Most extraordinary among these is drawing 33 of a prophet-like figure appearing in the distance. Husain at 50 years of age had already predicted and drawn what he himself would look like when he would be 80 years of age. In doing so is he envisaging himself as a person who could foretell how the future would shape him? In some senses he did predict his own years to come.
The third room focuses on another aspect of Husain, in his depiction of women. Here was an artist who did not idealise the woman but depicted her bare, shorn of adornments, never coy but enigmatic some times, and powerful. He displayed her in impassioned colours of crimson reds and potent with energy; or in reds and blues as in the mysterious image of Maya II. Her hands are beautiful, the face discreet. The woman is perceived as a thing of beauty and mystery.
There were several women in Husain's life, but when did he come to depict the figure naked? Earlier depictions show women conversing, attired and at times wearing a burkha, the emphasis on their hands as in Spider and the Lamp. It seems as though Husain's visit to Prague and meeting with Maria emboldened him to focus on the body. How different is his imaging of women from that so explicitly erotic by Souza in adjacent rooms, especially in that overpowering figure titled Birth. How different indeed their interpretations—Souza's figures are savage, Husain's are primordial.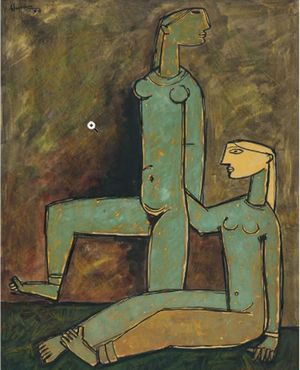 It struck me that there is no depiction yet of woman as dancer, in the years before the chapter opened for Husain on Madhuri Dixit. His emphasis is on movement and gesture as in the Natya Shashtra, his focus always is on hands. Are these modelled on his own hands which drew so swiftly with long bony fingers, using gestures to convey his emotions. We see this in the pictures of him taken in the early 1990s, by the photographer Parthiv Shah. These photographs are exhibited in a separate section to the Kiran Nadar show, to contribute significantly to our understanding of Husain as a man and artist.
So there is Husain then at his favourite haunt in Delhi of the ancient shrine of Hazrat Nizamuddin, sipping his chai and reading a newspaper, Husain doodling on a newspaper.. Then there is Husain in the National Gallery of Modern Art in 1993, at the first ever retrospective held of a living artist. Parthiv Shah was assigned to photograph the paintings at the NGMA; but he decided and asked the artist to appear with his images. So we see Husain leaning against a wall with an umbrella propped beside him, looking up at his painting of Frank Bogart holding a black umbrella. There is Husain kneeling in homage before his painting of Mother Teresa. There is Husain stretched out prostrate on the floor, before his painting of the dead Christ in the Pieta. Not only Christian themes. There is Husain kneeling down on his knees before a tall chair with his head lowered as though he awaits the moment of martyrdom, as did happen with his namesake, Imam Husain.
Our reading of Husain is influenced by what we know of him as an iconic artist, fakir, nomad, rebel, a freewheeling cosmopolitan who moved from Delhi to London to Frankfurt to Paris. The photographs by Parthiv Shah add new dimensions, as do many of the explorations in Husain's paintings.