You will not find any trace of buildings or of land or sea or even the horizon in the playful encounters by Jai Zharotia, recently exhibited by Gallery Art Heritage at Triveni Kala Sangam in New Delhi. In acrylic, the background colour stretches out to infinity in one tone, singing in yellows or indigo blue or vibrant greens–without borders or defined spaces. However, the encounters are playful, be it between a man and an animal, a man and a bird, a man with a kite, or at times, even between politicians when tension is manifest.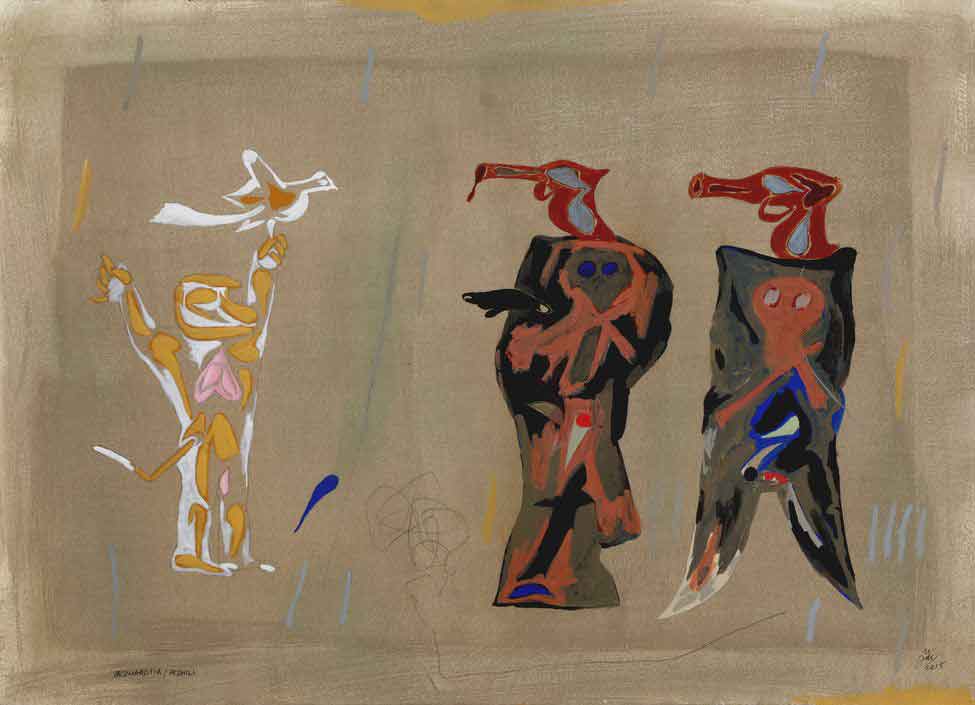 These pictures carry no titles and the sensation of space, extending out to infinity, is significant. Both the facts allow the viewer to draw his own conclusions from these imaginary encounters. Jai says quietly, "I do not give my paintings any title because the title then frames and limits the experience." Jai's choice of colours in acrylic perpetuate a mood and like poetry they emote joy and anger, sometimes they hint (occasional black against beige) at violence. For instance, he says his choice of a particular blue comes from the influence of Matisse introduced with a figure tugging at a kite that sails above clouds and the crescent moon. Anything and everything becomes possible!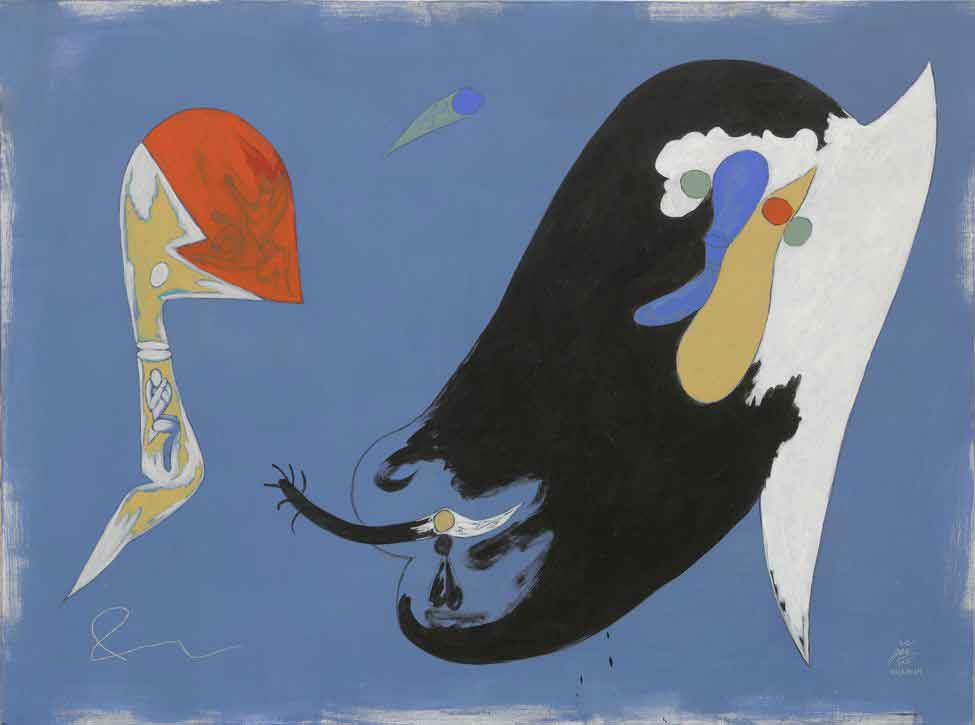 Looking at his whimsical fantasies makes me think of explorations by the expressionists such as Paul Klee, Miro and Hans Arp, in Europe. On the other hand, we learn that Jai Zharotia expanded his vocabulary by studying pottery from Peru and Mexico, in the collection of the National Museum. This has influenced the way he builds up his figures to give a three-dimensional edge to them, encompassing within these figures squiggles of human faces, birds, hearts and crescents. What joy and wonder in trivial things! Or maybe no so trivial, as he points out that there is an interconnection between everything in the world. This indeed relates to the philosophy, adopted by artists such as Klee, Miro and Arp, of elan vital flowing through us. Jai says, "Everything you see is a kind of happening!"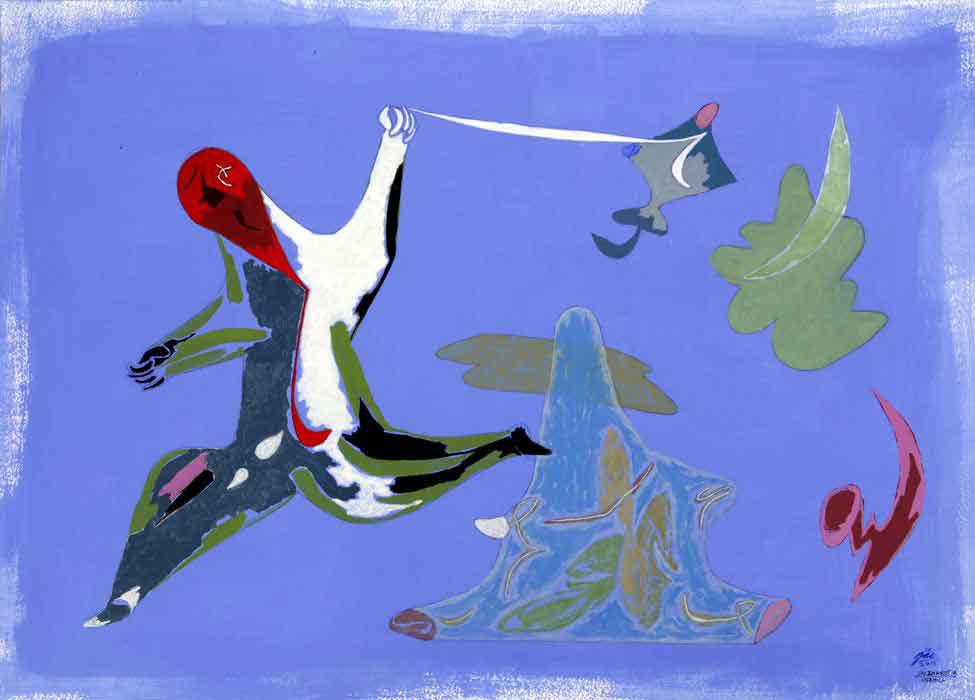 Another dimension that can be seen in Jai's forms is the impact of Hindustani music. Kumar Gandharva's unique style of singing where he lets a vocal note into the air inspires Jai to let his images float through the air. There is a certain musicality about his forms and choice of colours.
Over the years, Jai's buoyant lines have acquired maturity, as they also come to possess meaning. The space on ground could be flat with humour, but his figures are now situated in 'encounters'. Many years ago, Jai worked as illustrator for the newspaper Patriot, edited by the eminent artist from Kerala, J. Swaminathan. Though Jai did not share Swamy's radical views in politics and much else, he had many conversations which influenced him as much as Swamy's experiments did–in the colour-space as a single colour.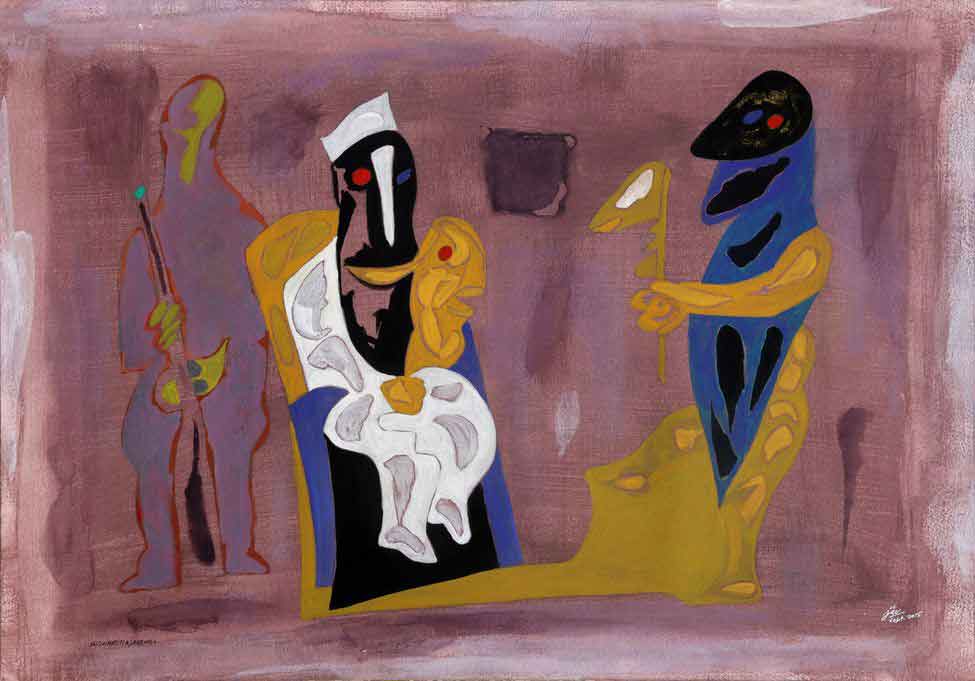 What has 'happened' over the last few decades is that Jai's work has moved from pure whimsy to political comment. His human acquires animal personae, while his animals become human. Witness his recent diptych (2016) of a procession where people carry different trophies, of a gramophone with loud speaker, a cat, a cockerel. Are these villagers or is it a political rally? Who possesses more animal in them–the beasts or the politicians who sit communicating through masked faces and hypocritical gestures? Two terrorists whose faces are shaped like pistols and whose bodies are composed of skull and bones confront a figure topped by a white bird of peace.