Some months ago Golak Khandual had brought home his two diaries, filled with his observations and confessions. More marvellous were his drawings that filled the pages. One hundred and twenty five more were exhibited recently at the India International Centre. Scribbled on the margins are stories, some drawn from a marvellous imagination, made up on the spot after he did the drawing and at times recalling anecdotes.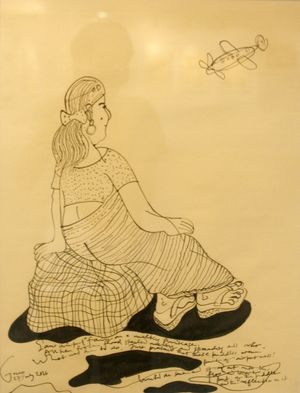 Take the incident of the 'Airport Fairy' sitting on her suitcase with melting puddles of food around her, waiting for the plane to take off. Or it may be a woman who missed her plane as one is shown flying above. A commonplace incident of course, where even the melting food may be a real dilemma. But did it ever happen with him? Or of 'Eggs, Kebabs and Vegetarianism' with an old man with goatee beard nibbling at leaves. Some hit an autobiographical moment as when Khandual got his passport and he is euphoric, holding the globe. "After that I didn't need to travel (outside India)."
Some drawings are poignant, recalling dear friends such as the designer Bindia when she was diagnosed with cancer and shaved her hair. Or his friend Pradip Krishen who is obsessed with planting trees (in June and the heat of summer). For many years they shared a deep concern about the environment that widens to activism, planting trees that are native to the soil such as the Dhak tree, and the Jhand which is revered in Rajasthan.
All this is not really expected from a man who studied architecture. These are not buildings at all but people in a variety of circumstances and dilemmas, and he says: "The drawings draw themselves.. After I draw them, the story happens." His drawings are done in ink and scribbled with stories, or with ink charcoal, or with the butt of a red chalk, or a bamboo reed. There is a striking frontal study of a woman whom he never met, another of a man profiled with a crew cut. "After I drew him, he actually walked by."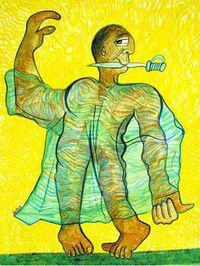 Premonitions about people? These are not generic types of people but specific characters cast into a situation. Which brings me to his digital drawings of Kathakali dancers. On one occasion, he sat in the audience sketching them on the spot as they performed. Profiles with twisted noses and huge eyes, skirts flaring, feet stomping. There they are in rows, telling another story. Sometimes he draws in the dark, at times he did a series with his left hand. "Because people say, don't use the left hand I wanted to try out the possibilities." At another time when he had been badly shaken by a car accident, he had to rely on his left hand to work.
Some people call him the 'Mad Molecule', or they call him 'Sir Random Particle; and he may be described as an 'Honorary Malayalee'. Certainly he is possessed of imagination and the art of discovering and telling stories. When he discovered drawing quite late in the 1990s, at a time in Pachmarhi when he was getting a house constructed, he became obsessed with it. Images flowed out as though they had been suppressed for a long time. So, there is hope for those of us who have reached mid-life crisis and would like to begin anew.