With roses, red chillies and body imagery, artist Katharina Kakar portrays suppression of women, and their sexuality
I have always thought the Lakshmana rekha which led to Sita's abduction is a metaphor for circumscribing women's freedom, as much as it assigns a protective role to men. Sita or other women crossing that boundary is considered to be transgression of social norms, as it means stepping out of the circle of protected order, harmony and also, domestication.
The magic circle becomes then the subversive means for Katharina Kakar to explore inter-related notions of women's sexuality, sensuality and the inherent powers of shakti. "Probing boundaries is part of the process of engaging with myself in many way," she says. Kakar brings her training in anthropology and a fertile imagination to create installations in various mediums to include copper with patina, fibre glass, wax, terracotta, acrylic paint, plastic tubes, nails, dried chillies, horse hair. All these materials build an incredible vocabulary to fuse tangible form with conceptual ideas. They interrogate traditional ideas and the rituals concerning women.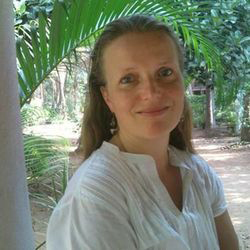 In how many ways can one form say so many different things? The circle within a square circumscribes the sacred geography of the 51 shakti pithas that lie scattered across the subcontinent, which are visited and venerated as dismembered parts of the goddess. (Shrines of Shakti are often placed in circular arrangement). Nine individual forms of the circle confront us as Desire, created from chillies, cloves and pepper to remind us that chillies are seen as metaphors for inner heat and desire, sexuality and rage. On the other hand,_ The Colours of Ananda_ greets us as an all-encompassing circle in green patina, to be associated with fluids of giving birth and the female orgasm.
The most powerful work remains as it is titled Lakshmana Rekha: a huge expansive circle filled with the rising aroma of red rose petals, gradually decaying as days and weeks pass. The circle's circumference is edged with a disarray of battered arms, legs, hands and feet. This becomes a potent metaphor for the dismemberment of the body and the self, by stepping out beyond the defined boundaries.
Each installation at Gallery Latitude 28 is unique and different from the next—where desire, sexuality, eroticism and the magical potency of ritual forms such as The Power to Create are merged into tangible form with meaning. Some are explicit references to sexuality, as with plastic triangles of the vagina pegged up and Hung Out to Dry, with stains of blood-red wounds. Three vertical pillars rise tall to eight feet like totems with circular balls strewn on the ground, all carefully wrapped around with red chillies, bristling with heat and sexual energy. The most brutal is the thrust of a copper rod into rotting wood to recall the multiple rape case, as the work is titled, of December 26 2012.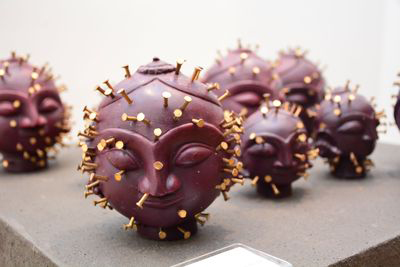 These are strong statements but they are balanced by delicate explorations of the erotic, with sheets of miniature paintings and text taken from that marvellous compendium of the Kamasutra. Another work opens the book to three text pages; the first of these pages is inscribed over by the artist in red ink with words that sum up for me the purpose of Kakar's images.
"Erotic love is a precarious balancing act between the possessiveness of sexual desire and the tenderness of romantic longing… between the imperatives of nature and the civilising attempts of civilisation…"
Kama Interrupted is this work which interrogates the purpose of this book, appropriately from a woman's point of view. Kakar asks, has the Kamasutra been misunderstood as a book of instructions for sexual intercourse? Is it a book on the art of living and loving meaningfully? Is it written for men alone or for women, because "Vatsyayana clearly recommends its study to women. Does he do this because "informed" women are capable of giving men greater pleasure? Or does he recognise women as subjects and full participants in sexual life?" A question worth our consideration.