Among significant shows held at the National Gallery of Modern Art is the current exhibition on Indian sculpture. Titled Itihaas it invokes the time from the 1960s to 1980s when sculptors such as Ram Kinkar Baij, Piloo Pochkanawala, Adi Davierwala and Amarnath Sehgal began the search to express modernity in art. Their works invoke the spirit of post Independence, returning us to classic images which have rarely been assembled together (though most are from the NGMA). The only sculptural show of this power earlier has been the solo exhibition as homage to Ram Kinkar Baij.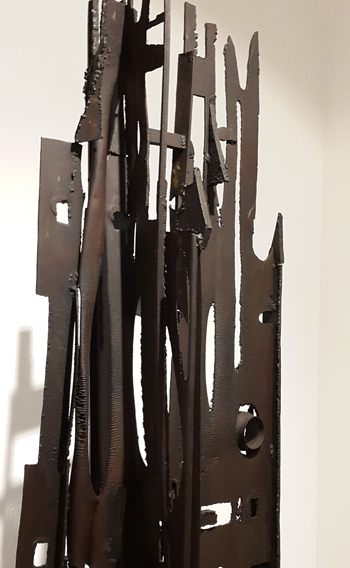 The initiative to focus on sculpture of the Moderns is owed to Shri Adwaita Gadanayak, the Director of the NGMA and a sculptor himself. The display here is innovative, by installing the images on packing cases in wood – a feature which enhances the power and strength of three-dimensional sculptures. Traditional mediums in stone, bronze, wood and terracotta are selected, giving primacy to the human figure. This is all in the traditional of classical Indian sculpture which was renowned all over the world and influenced sculpture in Cambodia, China, Japan Korea. They are far from the mediums now used in contemporary installations in plastic and fibre glass, hemp and rope, aluminium and steel.

If these images in the present show seem today to be old fashioned, we may recall that in their time they were seen as radical departures which broke free from conventional norms. Only Bakre's bust in plaster can be described as a realistic portrait of Sir Cowasji Jehangir. Bronze figures by Devi Prasad Roychowdhury are explorations of spirit, such as his brooding old man to represent Winter, squatting in a manner that is unmistakably Indian and removes him from Rodin's Thinker in France. While the theme is often traditional , the treatment is not; the emphasis is on mood rather than representation.

In Bondage and the Egg Bride by Prodosh Dasgupta suggest the new departures into abstract expression. So also do figures in bronze of a man, woman and child by Amarnath Sehgal titled The Cry which emote the poignancy of the Partition. More radical in treatment is the use of iron by Pochkanawala, where she creates no resemblance to human figures at all but refers instead to the movement of human masses. Adi Davierwala's figures are anguished figures of tragedies, both mythic and human. Both sculptors were Parsees living in the cosmopolitan city of Bombay, and their work is expectedly influenced by European trends. It is no surprise then to find them taking up themes such as Orpheus by Pochkanawala in terracotta or Icarus in bronze by Davierwala, both images being based on Greek myths.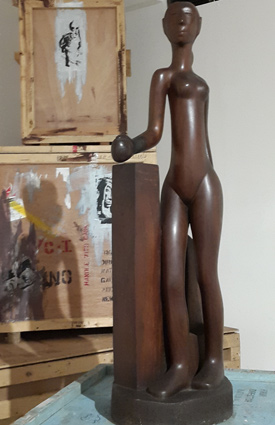 To what extent was modernity and 'modernism' in India influenced by Western art has been much debated. Did modernity imply by its very term influences from the West? This impact can be seen equally in other genres in post-Independence such as painting, literature, theatre.

Perhaps the strongest resistance to 'western' influence is seen in Ram Kinkar Baij, the last of artists from Santinketan shown here, and whose images continue into the 1960s. His work defies being classified in Western terms and seems to derive from a resilient spirit that springs from the earth. That he was an adivasi explains to some degree his streak of independence.
The Yaksha and Yakshini were among Baij's last works well known, commissioned to stand towering as guardians – as they still do today-- before the Reserve Bank of India on Parliament Street, New Delhi. He created them from concrete, exploring rough textures with freedom unsurpassed, and the maquettes here are a suggestion of that freedom. His Mithuna couple are another dimension of free expression, with kinetic energy flowing through their entwined bodies. Again his 'portrait' of Madhura Singh is exceptional, showing her as a proud, strong and voluptuous woman. But most of all it is his portrayal of the Mahatma on Dandi March which is exceptional as it shows Gandhi not as an icon but seen from below as small and squat, an ordinary mortal.

Several sculptors who deserve to be in this show are not represented. Their absence is in part compensated by an excellent audiovisual, bringing to us the presence and works by Somnath Hore, Himmat Shah, Meera Mukherjee and Dhruv Mistry. The interviews with Meera Mukherjee and Somnath Hore are sensitive, bringing alive the views and experiments by these pioneering artists who also broke away from the impact of Western modernity.