Some places in the world overwhelm you with their diverse and rich cultural heritage. The idiosyncrasies and eccentricity that engulf you are hard to describe and harder to write about. It is purely experiential. Buenos Aires is one such city, and I could feel it during a recent visit.
The Art Basel Cities initiative, a unique programme of talks and discussions, was being hosted by Buenos Aires. My name was suggested by Andras Szando, adviser to Art Basel and many other important cultural organisations around the world.
Argentina has a unique hold over the Malayali mind as it immediately evokes allegiances resonating on the football field. Maradona is near-God back home in Kerala. Along with football comes the country's other cultural exports like the Tango and theatre. Buenos Aires is the theatre capital of Latin America and boasts of nearly 400 theatres divided into three sections—the public or official theatres supported by the government, the private or commercial ones, and the alternative theatres.
Brazilian artist-turned writer, curator and museum director Adriano Pedrosa told me that Argentina is one of the few countries that owes most of its influences to European colonisers and have thus imbibed and inculcated a lot of what was brought into the country. Art Basel House is an excellent example of a European inspiration with its spacious rooms and imposing carved wooden doors and railings.
One needs at least half a month to really see, understand and absorb the splendour and vivacity of the city's culture. I had to delay my visit by a day because of a very important engagement back in Mumbai. We were raising funds via an auction of artworks donated by artists to the Kochi Biennale Foundation at the Saffornart auction house on October 31. It was a successful event and we were able to raise a sizeable amount to support and speed up Anita Dube's curatorial work for the 2018 Kochi-Muziris Biennale.
So, I had to skip the first day of the first ever Art Basel Cities (ABC), where the first lady of Argentina, Juliana Awada, hosted a dinner at Quinta de Olivos, the presidential residence. I cannot have everything in life!
ABC organised a fully packed programme for the delegates, which included introductions to the museums, directors, curators, visits to studios of artists and homes of private collectors, and special previews at ArteBA, an art fair, and many conversations.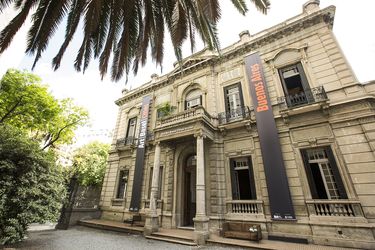 Until now I had no clue about the fact that Argentina has so many artists and exceptional museums. I had to catch up with what I missed on the first day—the Museum of Latin American Art known as MALBA. A few years ago, I had the good fortune to be part of a delegation to the Edinburgh Art Festival on the invitation of the British Council, which gave me the opportunity to meet Daniela Ruiz Moreno, coordinator of Fundación 'ace's Artists-in-Residence International Program. Since then we have been friends. I made an appointment with her for the last day—November 5, a Sunday—and promised to spend the whole day with her. She picked me up from the Four Seasons hotel and took me to meet her boss, Alicia Candiani, who runs a small and good artist residency, Acepirar International Artists-in-Residence Program, a not-for-profit organisation she started. The residency offers wonderful studios with print making facilities, a small writing studio, library, kitchen, terrace and high ceiling exhibition space.
I must thank Szando and Megan Leckie for thinking about me while planning the programme and I am going to write more about Art Basel Cities. I have secretly made a promise to myself to return to Buenos Aires, the city of art and theatres. Only because the curtains never come down there.
editor@theweek.in