There is more to Singapore than just commerce. Last week I was in Singapore for the Signature Art Prize jury, an exhibition of the works of 15 artists—shortlisted from 113 artists representing 40 Asian countries and nominated by 38 curators and critics. I fondly recalled former Kerala Planning Board member G. Vijayaraghavan who had introduced me to his friends Rajkumar and Mary, a couple settled in Singapore, as I made plans to meet them for lunch. Last December, I received a phone call from Mary a few days before the third edition of the Kochi-Muziris Biennale. She had visited the first and second editions and had called to check if we were looking for charitable donations for the biennale. The call came as a delightful surprise. I remembered meeting her in Singapore at an art fair and later at KMB, but nothing in our previous interactions had led me to anticipate her call that day.
The Rajkumars took me to a colonial club. During lunch, they told me how they were planning on moving back to their old 'black-and-white house'. I had heard this term—black-and-white-house—a few times, but was not sure what it meant. Later, upon enquiring, a friend Jonathan Nicholas, an Australian artist and writer, living in Singapore, explained about the now famous colonial housing project. He also told me about the local art scene, government policies and many other subjects. In short, Jonathan was interesting company for a curious visitor such as myself.
I had met Jonathan and his wife Bala Starr, a prominent curator, in Kochi during the first edition of KMB. While she was in Melbourne, I had visited her as part of my research for the first KMB. Later they moved to Singapore and Bala was invited to be the director of the Institute of Contemporary Arts at the Lasalle College of the Arts in Singapore, one of the most important and fastest growing visual arts colleges and art space (ICA) in Asia.
A must see for any visitor to Singapore is the Gillman Barracks, a contemporary arts cluster that is home to international art galleries, restaurants and the Nayang Technological University Centre for Contemporary Art, whose director Ute Meta Baur is one of the art world's most influential thinkers. Gillman Barracks, a conserved colonial quarters, was jointly developed by the Singapore Economic Development Board, JTC Corporation and the National Arts Council.
The nearby Holland Village has long been a stronghold of Singapore's expatriate community and a bohemian culture, while Dempsey Hill is a hip, neighbouring district. The former is one of the city's top lifestyle destinations with a cluster of eateries set in quiet and mostly residential surroundings. The latter features trendy restaurants and shops hidden within the conserved colonial black-and-white buildings of former British army barracks.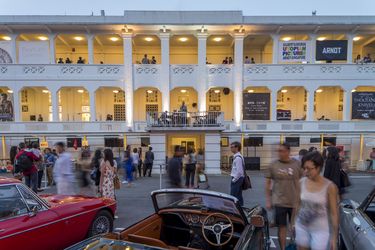 I was happy to meet Eugene Tan, director of the National Gallery in Singapore. The gallery is currently displaying a blockbuster Yayoi Kusuma show and has many permanent exhibits. Another highlight of the cultural scene is the Singapore Art Museum, which has been closed for a year for redevelopment and refurbishment. Initiatives like the National Museum, Art Stage, Art Fair, Singapore Biennale, and the Institute of Contemporary Art at the Lasalle, Signature Art Award and Prudential Art Award have placed Singapore high on the list of international art and culture destinations.
As I was leaving Singapore, I had an epiphany. It would be quite wondrous if Kochi's Willingdon Island could be repurposed to create gardens, recreational spaces, restaurants, hotels, and a contemporary design and art museum much like the Gillman Barracks and Dempsey Hill in Singapore. So much of India's post-industrial and post-colonial remnants lie unused and are mostly in ruins today. It would make for interesting cultural and recreational infrastructure opportunities. Take a leaf out of Singapore's culture manual, anyone?
editor@theweek.in