Curation, not creation, is king, says Steve Rosenbaum in his bestselling book Curation Nation. He was right in saying that a cultivated combination of passion and context turns noise back into signal. My friend, author and curator Hans Ulrich Obrist, puts the idea into a better perspective in the context of creativity in his book Ways of Curating.
Curating, he writes, as a profession means four things. "It means to preserve, in the sense of safeguarding the heritage of art. It means to be the selector of new work. It means to connect to art history. And it means displaying or arranging the work. But it's more than that... It's a mass medium and a ritual. The curator sets it up so that it becomes an extraordinary experience...."
So true. If you cannot craft in surprises into curation and programming, then it becomes boring, and the spaces become monotonous and sleepy. Art is what breathes life into constricted spaces.
Serendipity Arts Festival in Panjim was envisioned by the Delhi-based businessman, art collector and educational philanthropist Sunil Munjal and his daughter, Shefali Munjal. I had met him earlier in Delhi during one of the editions of the Delhi Art Fair. He had later come to Kochi as the Kochi Biennale Foundation's guest. I had also met him in Goa, a few years ago, at an annual retreat, where he talked about art and culture and the role of soft power in the world.
Due to my prior commitment as director of the Kochi-Muziris Biennale's third edition in 2016, I hadn't been able to make it to the first edition of Serendipity. This time it was different. My family and I joined Riyas Komu, his wife Zoya and their daughter Mariam at Cidade de Goa, the seashore hotel in Goa designed by the inimitable Charles Correa.
The second edition of Serendipity was an all-round affair and ran for eight days in December 2017 at 10 venues in Panjim, including the beautiful Adil Shah Palace. Dinesh Khanna and Prashant Panjiar curated the photography section; Shubha Mudgal was the curator for the music section; Odette Mascarenhas and Manu Chandra were the culinary curators; theatre was by Lillete Dubey and Anuradha Kapur; performance by Sabih Ahmed; crafts by Manjari Nirula and Annapurna Garimella and film by C.S. Venkiteswaran.
The visual arts section had curators Riyas Komu and Ranjit Hoskote.
Riyas brought a larger vision and introduced new and young talent from the subcontinent—artists from Afghanistan, Bangladesh, Bhutan, Nepal, and Sri Lanka, besides India. There were special visual arts projects curated by Vidya Shivadas.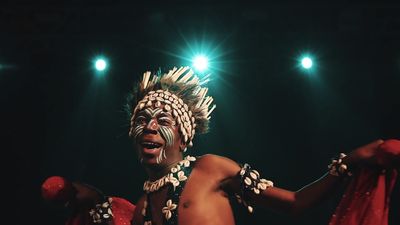 When I first told my wife Radhika about Goa and the Serendipity festival, she jumped at it. She had begun her career with the national income tax department in Goa. One evening, Riyas shared this thought with me, "You have the same feeling when you are in Kerala," he said, "but with more freedom." I am sure that he was talking not only about political or creative freedom, but also about the languid and leisurely pace of a day in Goa.
At Serendipity, all forms of art find a meeting place—visual art, music, protest songs, theatre, cinema, literature, performances, classical and contemporary dance, graffiti, murals, film hoardings, gigantic cutouts and, most importantly, meaningful conversations about art and culture. Passionate, young women like Smriti Rajgarhia make Herculean tasks look easy.
Big-budgeted festivals like Serendipity should run for a few days more. Even if it doesn't, I will be returning to Goa for the next edition, as long as it does not clash with the Kochi-Muziris Biennale—December 12, 2018 to March 29, 2019 (save the date). No serendipity, this!
editor@theweek.in