Thanks to CHART Art Fair and Mark Rappolt, editor-in-chief of ArtReview magazine, I was invited to participate in their talks programme in Copenhagen from September 1 to 3. The discursive programme included several heavyweight curators and directors of international biennales and art institutions, including Carolyn Christoph Bakargiev, Hans Ulrich Obrist and Maria Lind among others.
The CHART is a compact fair when compared with other international avatars, yet it was wonderfully refreshing to see such a small and modest art event attract so many regional and international luminaries and enthusiastic local public. Unlike most fairs in the world, there were no partition walls, but an open plan exhibition of 33 tightly selected galleries.
The main art fair was complimented with emerging artists section, curated by Helga Christoffersen of New Museum, New York, which included Vidha Soumya, an Indian student who lives and works in Helsinki. One of the most exciting thing about visiting exhibitions around the world is seeing emerging talent and I was proud of an Indian presence at the fair.
CHART is also unusual as it not only encompasses art, but also film programme, talks programme, design lectures and focuses on local gastronomy, music and design. As part of the daily live music sessions, we were lucky to watch the Turner Prize-winning artist Martin Creed's hilarious solo performance using a mouth organ and guitar, singing about life, love and loss.
The non-profit organisation behind CHART programmed our visit in Copenhagen which included visits to artists' studios, museums and some great dinners, including one at the Swiss ambassador's residence. The evening was curated and conceived by Danish artist trio Superflex. The Swiss ambassador was at his best of humour when he opened his home and gardens to over 300 people, encountering performance artists and chefs serving only vegan food to the hungry guests.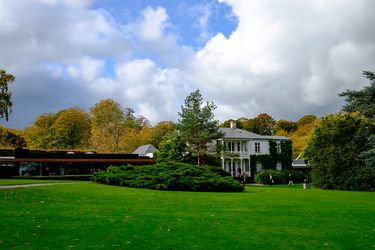 My colleague Shwetal A. Patel, a PhD researcher and consultant to Kochi-Muziris Biennale, was one of the speakers in the talks programme along with Hans Ulrich Obrist, Peter Pakesch and Sofia Hernandez. Shwetal and I visited the Louisiana Museum of Modern Art, located on the shore of the Øresund Sea in Humlebæk, around 35km north of Copenhagen. The Louisiana is the most visited museum in Denmark and has an extensive collection of modern and contemporary art in addition to a programme of special exhibitions. The museum is a celebrated milestone in Danish architecture, and is well known for its synthesis of art, architecture and landscape. Upon arrival at the Louisiana I was faintly disappointed at what looked like a typical European bungalow. Upon entering the museum I was suddenly enlivened as I quickly realised that it was mostly hidden underground. Many serendipitous moments unfurled whilst exploring the spaces and rooms which included exhibitions by the legendary performance artist Marina Abramovic and Danish painter Tal R. In both the exhibitions we could read a graph of their careers, and it was inspiring for first time visitors like us, as we traversed the fluid architectural interiors and narrow pathways leading to contemplative galleries and open meadows. The park surrounding the museum had many large sculptures by artists including Richard Sera, Alexander Calder, Miro and Dan Graham, around which hordes of schoolchildren enjoyed the late summer sun against the backdrop of the sea.
We have to learn from this region and its approach to ecology and public institutions. We in India are losing opportunities for much-needed green spaces in our cities. When commissioning new public institutions, we must always remember that less is more, and create green spaces around our built spaces. Let there be more gardens!
editor@theweek.in