As regular readers of this column know, I like to visit art exhibitions during my travels. Recently, I was invited to talk about the Kochi-Muziris Biennale at the Bhubaneswar International Art Fair. I know several artist friends from Odisha and they keep on inviting me to their state. Unfortunately, I could not attend the earlier editions and hence I was looking forward to my first visit to the art fair and the opportunity to talk about art initiatives such as the biennale. My first visit to Bhubaneswar was in 2001 for an artists' camp at Puri and I remember Nataraj Sharma, Gargi Raina, Pushpamala N. and 15 other artists at the camp teasing me about my impending marriage and my imagined life after the wedding.
Bhubaneswar has architecture and art colleges and an exhibition space which has the works of Adwaita Gadanayak. On my recent visit, artist Birendra Pani and Surojit Poddar took me to KIIT (Kalinga Institute of Industrial Technology, formerly KIIT University) in Patia. We had the opportunity to meet the dean and a few young teachers of the architecture faculty, and I spoke to the young students about the Kochi-Muziris Biennale and the international art world and much else.
Thereafter, we visited a nearby sculpture garden and there, too, entire works were by Gadanayak. I was very upset about its monopolisation of the local area. I wish they had curated public sculptures by more artists. Bhubaneswar is one of the country's fastest developing cities and one of the centrally designed smart cities and I felt it deserved a wider worldview for its engaged and curious citizens.
The art fair was at the Bhubaneswar Lalit Kala Akademy and was curated by Rajashree Biswal. The Bhubaneswar International Art Fair was started by Surya Rath, who led a committed team of eager people. In India, we have immense possibilities for cultural development because we have an incredible wealth of diversity of heritage and visual culture. However, I feel we lack the worldview and professionalism as well as vision to achieve our fullest potential.
Although the art fair is a valiant effort, I think it lacked commitment towards a sustainable model that fully engaged the local art scene. Organisers often prematurely envision the success that comes with popular initiatives, but I do not know how we can prepare each location with a new identity. Factors such as equal employment, sustainable models, pluralistic curation models and educational initiatives that generate their own specific needs and character are the need of the hour. In my experience, it is always important to keep in mind local audiences to understand the media landscape and politics of the local art scene and artists and to garner connectivity to the international world.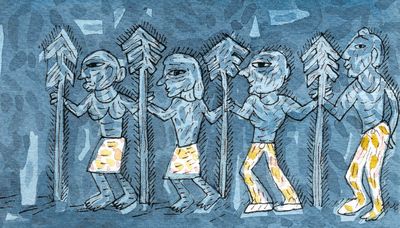 Often, policy makers interested in expanding the cultural offer for its citizenry lack the experience and conviction to take risks and innovate on existing models and frameworks. The recently held second edition of the Serendipity Festival in Goa is an exception to this status quo, with an excellent selection of artists, held in multiple venues across the state capital and its beautiful environs. This success in part is due to the committed patronage by the Munjal family of Hero Motorcorp and a leading group of artists and professional curators and academics to formulate the exhibitions and programmes.
As India moves forward in the 21st century, we need more cultural infrastructure in every single state. No doubt as new initiatives and festivals emerge, there will be winners and losers in the field, but we all learn by doing. For cities like Bhubaneswar to compete at national and international levels, originality and authenticity are what matter most. Artists, like other stakeholders in society, will thrive only if there is an open playing field, which is free of nepotism and outdated biases.
editor@theweek.in