The curtains, as I said in my last column, never come down in Buenos Aires. One of the memorable experiences I had while there was meeting Argentine artist Marta Minujín as part of the Art Basel Cities studio visits programme.
I recalled Marta's work at documenta 14 in Kassel, Parthenon of Books, in which she used thousands of prohibited books to construct a replica of the Parthenon in Athens on a Nazi book-burning site. She had earlier put on a performance piece on the opening day of documenta titled Payment of Greek Debt to Germany with Olives and Art. It featured Marta and an Angela Merkel impersonator walking in circles around a metal tray containing Greek olives. After a quick speech, 'Angela' agreed to write off the Greek debt in return for a handful of the olives.
Marta, who firmly believes that "everything is art", was present at the opening ABC Conversations programme moderated by Andras Szando. She was joined by Cecilia Alemani, director and chief curator of High Line, New York, and artistic director of Art Basel Cities: Buenos Aires 2018, Victoria Noorthoorn, director of MAMBA—Museo de Arte Moderno de Buenos Aires (Buenos Aires Museum of Modern Art)—Florencia Battiti, curator of Parque de la Memoria and arteBA Focus 2017, and Noah Horowitz, director of Americas Art Basel. Szando pointed out Marta and mentioned that she is in the process of producing a work worth $10 million in Buenos Aires!
Marta is a dandy to the core and has performed with Andy Warhol. She told me one of her best friends was from India, one Mrs Apparao. Marta has a sculpture studio and a full house gallery of exhibition spaces with her colour field abstracts, collages, photographs and an archive of her public installations and performances. Her gallerist was the interlocutor and charted out the history of Marta's contributions to the world of art.
I cannot forget Michèle Sandoz, global head of VIP relations with ABC. She was the darling of all the guests, the most active and pleasant of all the people I met in Buenos Aires. She would introduce me to every possible person she could, drag me into conversations and invite me join her table for dinner or discussions.
Talking about dinners, the closing/farewell dinner of ABC was hosted by Patricia and Juan Verges, board members of ABC Buenos Aires and global patrons' council members of Art Basel. The Verges family has incredible taste for collecting art. Their collection has been thoughtfully curated by their young and stunningly beautiful architect/adviser daughter Eileen Verges. Hence it was not just a farewell dinner. It was a yummy double treat of art and taste!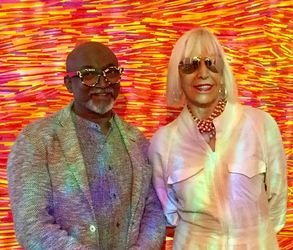 Once the ABC Conversations concluded, I visited Parque de la Memoria (Remembrance Park) with my friend Daniela Ruiz Moreno. The park, along the Río de la Plata, is a memorial to the victims of the military regime, known as the National Reorganization Process, which reigned from 1976 to 1983, a period of unprecedented state-sponsored violence in Argentina. The Remembrance Park has many sculptures, a museum and the names of 30,000 victims are engraved on the walls. What struck me most among all the sculptures was a fantastic site-specific work created by Argentine artist Claudia Fontes in the estuary.
There is no end to how much you can write about the excellent museums in this city of theatres. It could well be the city of museums what with institutions like the Museum of Migrants, MAMBA, PROA and MALBA. Among them the most exceptional experience was at Centro Cultural Kirchner (CCK) with the artist and curator Guillermo Kuitca's perspective of the Foundation Cartier Collection. Someone mentioned to me that CCK, which used to be a post office building, is the largest museum space in Latin America. As I was leaving, exiled Chinese artist Ai Weiwei was installing a project in front of the PROA. So much for museums and memories.
editor@theweek.in