Russia and Moscow have a special place in the heart of a Malayali. So, it was only natural that I was more than excited to visit the land of revolutionary Lenin, poets Mayakovsky and Pushkin; authors Dostoevsky and Tolstoy; filmmaker Eisenstein; composer Stravinsky; and artists Rodchenko, Malevich, Kandinsky, Ilya and Emilia Kabakov and the latest AES + F, whose work at Kochi-Muziris Biennale (KMB) 2016 had everybody spellbound.
I think the organisers of Moscow and Lyon biennales should work in tandem, so that their dates do not coincide. In fact, all biennale cities should prepare their calendar so that they are in sync with each other. The professional preview at Lyon and Moscow were on same day, so I had to miss the latter. My friends said the opening ceremony in Moscow was grand with an impressive array of costumes, couture and characters.
My initial hours—the transit from airport to hotel—were as harrowing as in several other cities where you arrive as a tourist. After a journey of an hour and a half, I reached my hotel Park Inn Radisson in central Moscow.
The experience made me curious about Siji R. Krishnan, a participant in the Moscow biennale. It was the first time she was travelling outside the country. So, I called her to find out how she had been and what she was up to. She was staying in the Red Square area. Siji told me that another Indian artist Gauri Gill was also there. I was really excited to hear that because it was at the KMB that both Gauri and Siji's works were introduced to the Moscow biennale curator, Yuko Hasegawa. I remember Yuko's earlier visit to KMB 2014 with the President of Sharjah Biennial Foundation, Sheikha Hoor Al Qasimi. A year later, she invited Unnikrishnan C. for the Sharjah Biennial, after seeing his works in Kochi. And, this time she discovered Gauri from Sudarshan Shetty's curation.
I called Gauri and asked if the three of us could have dinner together. To my surprise, Gauri revealed that another Indian artist invited to the biennale was once again a pick from KMB—Rohini Devasher. So, three women artists represented India at the Moscow biennale.
"Why don't you join us with Rohini Devasher and family?" Gauri asked. I hired a taxi from my hotel and reached the appointed restaurant in 20 minutes. However, we had to anxiously wait for Siji, the first-time traveller. She made it just in time, before the restaurant downed its shutters.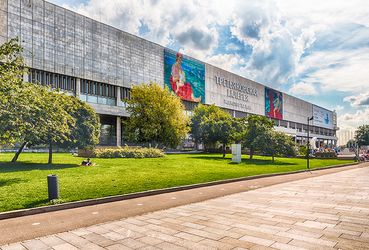 Later, I was happy to see art critic, curator and head of the NCCA Yekaterinburg, Alisa Prudnikova, in Moscow after her KMB visit. She invited me to see Shiryaevo Biennale Central Russian Zen, at the regional project site.
The Moscow Biennale, which takes place at the New Tretyakov Gallery, titled Clouds → Forests, opened on September 19 and will run till January 18. Yuko Hasegawa brought in big names such as Björk, Theaster Gates, Matthew Barney, Olafur Eliasson and Hussein Chalayan, besides 50 other artists from 25 countries.
One place on my wish list was the Garage Museum designed by Rem Koolhass, founder of OMA, and commissioned by the Russian oligarch Roman Abramovic and Dasha Zukova, one of the biggest art collectors in the world. True to OMA's reputation, Garage was a reincarnation of an old building to which a wonderful café, a fabulous museum, book shop and exhibition spaces had been tastefully added. We could not completely experience the building due to preparations for the forthcoming show of Japanese artist Takashi Murakami. I surely plan to return to Garage, to at least fulfil the wishes of Museum Director Kate Fowle.
editor@theweek.in