There is something new in the country to be cheerful about. This, at a time when finding something to be happy about is as difficult as fishing in plastic-filled waters. There is a new Sculpture Park at the Madhavendra Bhavan palace in Nahargarh Fort, Jaipur, which showcases the finest three-dimensional works by contemporary artists.
We were invited to the palace to attend a dinner hosted by Shreyasi Goenka of Zee and Aparajita Jain to celebrate the Jaipur Literature Festival. The exhibition is curated by Peter Nagy, and has works by 17 Indian and eight international artists.
Peter Nagy is an artist who moved out from New York to India, after closing his East Village gallery in 1996. Exhibiting works in rented and leased out locations in Delhi, Nagy became one of the most familiar names in the art world as a gallerist. He set up, and, now co-runs, the prestigious Nature Morte Gallery in New Delhi with Aparajita, whose Saath Saath Arts is in partnership with the state government of Rajasthan for the Sculpture Park project. The state government has given the space out on a ten-year lease for the project.
I missed the grand opening in December, and so was very excited to visit the exhibition. To my surprise, it was an exhibition of brilliantly put together sculptures and installations; outdoor, indoor, on the ground, hanging from the ceilings and on the terrace of the well-maintained and restored palace. The works blend very well with the grandeur of the fort, built by Maharaja Sawai Jai Singh II in 1734. After my visit, I felt the government should lease out spaces for the long term to dedicated and committed art professionals and specialists like Nagy.
The exhibition seems to have received some corporate support with names like Zee, Borosil, PI Foundation and JSW being displayed prominently. There are similar projects encouraged by the government, such as the Museum of Legacies—a historical building, which once served as an art school, that has now been made a museum dedicated to tribal and traditional art, textiles and design.
I think the people behind the immensely successful JLF—Sanjoy Roy, William Dalrymple, Namita Gokhale and their team—should seriously think about crowd management, which was quite exhausting. There were great speakers at five venues, every day, from the fields of arts, literature, social and political sciences, media and cinema. I was a guest delegate at the JLF and was able to attend reading sessions, conversations, book releases and visit pop-up bookshops, besides enjoying the great food and entertainment—Kailash Kher, my good old friend Talvin Singh and many more.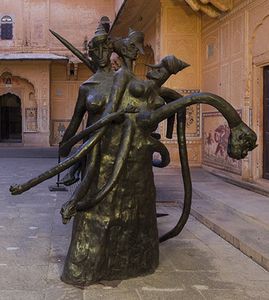 But, there was a terrible flaw. Most of us could not see the speakers, especially on opening night, because of the backlights! Clumsy stages and garish sets turned it into the caricature of chaos. That managed to overshadow the amazing speakers who had come from all parts of the world. Festivals like this should have exemplary design.
Jaipur has a lot to offer, culturally, like the Jawahar Kala Kendra designed by Charles Correa, and now directed by Pooja Sood. I was lucky to visit 'Where is Space', an architecture/art show curated by Rupali and Prasad Shetty. Though I found that some of the works were beyond me, as I couldn't connect them with architecture or space.
Another sight at the JLF that delighted me was a group of around 70 students and tutors from St. Teresa's College and Sacred Heart College, both in Kochi, Kerala, along with the selfie performances that have become customary these days. I was privileged to attend, at the JLF, the fourth edition of Ojas Art Awards, an initiative of art lover Anubhav Nath. This year, the award went to Anwar and Uttam Chitrakar, Pattachitra artists from West Bengal. The Pink City overwhelmed me with its love for art.
editor@theweek.in