We are inundated with events. We see and hear announcements about fairs, conferences, talks, seminars, symposiums and festivals all the time in media. It ranges from topics as varied as science, technology, arts, literature and religion. There is no escape. Either you are right in the middle of it as a participant, or you are absorbing the barrage of information as a member of the audience. Global conference is the new convention (pardon the pun).
A month ago I was in Singapore to attend a major international art summit, Contemporary international Museum Associations Meeting (CiMAM 2017). Some 280 museum directors, curators and professionals from all over the world gathered for the event. "Theme of this year's conference ['The role of museums in civil society'] is particularly timely in this global climate of upheavals and uncertainty," said Eugene Tan, CiMAM board member and director of National Gallery Singapore (NGS), which hosted the conference.
My first CiMAM experience was in November 2015, when I was invited to speak on my work with Kochi-Muziris Biennale. It was at that event that the artistic director of Yinchuan Museum of Contemporary Art (MOCA) invited me to curate the first ever large-scale contemporary art event in Yinchuan, China. The 90-day-long inaugural edition opened in September 2016. I could not attend the last year's conference in Barcelona, where CiMAM is based. It is an influential and inspiring organisation with around 450 museum officials as committee members—museum directors, foundation heads, curators and institutional academicians.
It was Mami Kataoka, chief curator of Mori Art Museum and currently designated curator of Biennale Sydney 2018, who nominated my name for CiMAM membership, seconded by Tan. I was thrilled to be part of this organisation. It introduced me to a lot of inspiring and influential thinkers from the art world like Frances Morris, director of Tate Modern; Ann-Sofi Noring, co-director, Moderna Museet, Stockholm; Augustin Perez Rubio, artistic director, MALBA, Museo de Arte, Buenos Aires, and Bart de Baere, artistic director M HKA, Antwerp. It also gave me the opportunity to travel to some of the most exciting art destinations. This year NGS organised a pre-conference tour of Ho Chi Minh City, Vietnam, and a post-conference tour of Jakarta and Yogyakarta, Indonesia.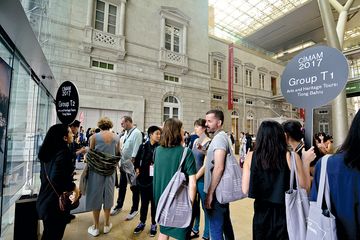 The CiMAM chose Stockholm and Sydney as the next venues for its conference in 2018 and 2019 respectively. If you hold an important position in museums, art collections, foundations or institutions, I would suggest you to consider obtaining a membership of CiMAM. That automatically gives you a membership of ICOM ( International Council of Museums). An ICOM member is entitled to free admission to several museums around the world. Some museums also allow free entry to a guest and a few other privileges.
NGS had organised the conference very well. Apart from the creatively conceptualised lunches and conversations, there was much food for thought. The theme was very well suited for the climes that art practitioners have to contend with. It was just the right time to examine and evaluate afresh the roles of museums and their public functions, reflecting on how museums can continue to be effective forums in society where different communities can share and debate differences through non-violent means. Among topics that touched many raw nerves were censorship, the volatile and precarious contemporary political atmosphere, and how museums and the art world in general can cope with them all. Such sessions are the way forward to arrive at the 'ark (read art) of the covenant'.
editor@theweek.in