What was hoped to be a dream sign-off to Usain Bolt's remarkable career ended in a whimper. He finished third in the 100m race at the IAAF World Championships in London in August. Does this performance make his career any less remarkable? On the contrary, it brought in focus on his tremendous domination of his events in track and field. He was the man to beat, for close to a decade. To stay at the top in track and field for so long and keep improving his performances in the face of competition is astounding. What drove him to take those amazing leaps of performances? Was it only the desire to breast the tape before anyone else could? For, if it was only about winning, then just doing incrementally enough to beat the competition would suffice. But, he did more than that. He shaved off milliseconds as if he was scooping soft butter with a knife and, in doing so, lifted an entire generation of competitors with him. Few people have had this kind of effect in their sport but those who have, I feel, must have a common thread running through them. Michael Jordan [basketball], Muhammad Ali [boxing] and Roger Federer [tennis] come to mind.
I have a hunch as to what could connect these remarkable people as well as many others across varied fields who we know of and those who never come to the limelight. They possess two important qualities. They love what they do with all their heart, and their benchmarks are not their competitors but their own selves. The second quality is really the obsession with excellence. Success to such people, while important, is only a by-product of their love for what they do and their unceasing pursuit of excellence. Bolt made it clear that he was not enjoying his punishing training and competitive schedule and he had the grace to call it a day. That can only come when one is driven by love and excellence and not by the need to be successful. Unfortunately, there are many who get so caught in the pursuit of success that they stretch their 'innings' well beyond their expiry date!
Success is the achievement of some objective and is invariably linked to fame, money, social status and power. When this becomes the focus and driver of one's motivation to play or pursue some other area of interest, then what follows is a life of uncertainty and disappointments as success is largely dependent on external factors—being at the right place at the right time with the right preparation, with place and time beyond one's control. Failure is a distinct possibility, and when that happens one's motivation is lost and it takes great mental effort to recover. And, when there is achievement, it is temporary.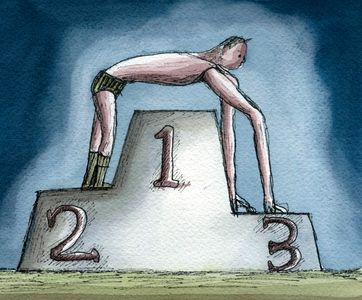 On the other hand, excellence is the quality of being outstanding at something and this is very much within one's control. And, when one loves what one does, then excellence can flower. The pursuit of excellence is a mindset that does not diminish over time and is carried on to all aspects of one's life. One is more content and calm when things go awry. At my sports foundation, whenever we enter a competition, I always check whether athletes have bettered their personal bests rather than their winning a medal.
Unfortunately, we bring up our children on a staple of competing for success that leads to all kind of mental problems. To have a capacity is what makes us uniquely human, but to make that subservient to success restricts that capacity and the joy of expressing it. If only parents and educators allowed children to pursue their interests rather than focus on achieving some illusory future success, we would all be a happier lot!
Ashwini Nachappa is a former athlete.