Dear Rajyavardhan Singh Rathore, Congratulations! It has taken various governments 70 years to do the most obvious—to have a well-qualified sportsperson as our Union sports minister!
You face seemingly impossible challenges in creating a vibrant sporting culture. Yet, having reached the pinnacle of your sport, as well as having invaluable ministerial experience over the last few years, you are ideally placed to revitalise our decrepit sporting system. Being an Olympian myself, I understand the struggles you've gone through to emerge at the very top in your sport. Along with the sporting fraternity, I am excited and hopeful about the possibility of change. However, continuing with the existing trend of being reactive and fighting fires for some small short-term gain will have insignificant impact. What is needed is a long-term strategic approach to overhaul the system.
For this to happen, I see a three-fold challenge. The first one is of tackling a culture of entitlement of those in power that has seeped into the very veins of all governance in this country. For decades, the same group of persons have held on to power in the sports federations and associations across the country, and, despite damning evidence of malpractice and corruption against them, many continue to do so. The only way to tackle this horrible menace is to urgently legislate a sports bill which has been in limbo since 2011. It will ensure fairness and an equal opportunity to those who have the credentials to run such organisations. We need young, fresh blood eager to serve sport and not the other way around, as it is happening today.
The second challenge is one of spurring interest and generating passion for sport at the grassroots. Due to neglect and breakdown in sports administration, sport has lost its appeal among parents and educators. The menace of overage competitors has also contributed to killing any desire among parents in supporting their children to pursue sport. Pursuing academic excellence is all that good schooling is about nowadays, in most cases. Physical education has become just another subject to be accommodated in the timetable. Surely, this is no way to encourage the development of sport? At the same time, sport cannot be mandated. Rather, we need to create an environment for children to enjoy playing and competing. Having a clear and consistent pathway of competitions at school and university levels is a great way to start. Partnering with the human resource development ministry to promote sport in schools will also help.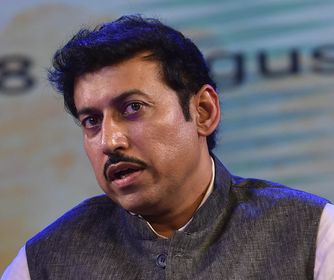 The final challenge will be to restructure our moribund system of sports governance. Since independence, we have never really focused on sport as a viable means of living. Our governance structure has, therefore, been unplanned and what we have today is a result of knee-jerk reactions. Take the Sports Authority of India, for example. It was set up after the 1982 Asian Games to look after infrastructure that was created for the games. Over time, SAI has taken on other roles without any kind of rationalisation. Also, what is the role of the Indian Olympic Association and how do they seamlessly work with SAI, the states and federations? In our new-age economy, how do we dovetail private initiative in an organised way so that much needed resources are directed accurately? How do we become more inclusive so that para-athletes are treated equally?
You have already taken steps in the right direction that will aid top athletes focus on their performance. This is a wonderful opportunity for you to leave a legacy of being the one that put India on the map of the sporting world. All it requires is your deep and unshakable intent.
Wishing you all success, Ashwini Nachappa
Nachappa is a former athlete.