The Sindhu versus Okuhara final at the BWF World Championships was epic, one that was comparable to the Federer-Nadal clashes and even the classic Borg-McEnroe matches at Wimbledon. Both shuttlers were on top of their game. Neither wanted to lose and they showed deep intent and aggression. Playing to their strengths, they wanted to exploit each other's weakness. It was breathtaking to watch, especially the 73-shot rally. Clearly the two were in 'the zone', a magical coming together of years of dedicated honing of skills, and a calm and uncluttered state.
Time and again we hear about 'the zone' and what it brings in its wake. In my career I have had it a few times, and I can recall one such period when at the nationals and the subsequent international permit meet I beat P. T. Usha twice on both occasions. Being in the zone was the only way I could have done it; such was her superiority as an athlete! Most serious sportspeople (and people devoted to other pursuits like writing, art, music and theatre) aim for this holy grail, but find it elusive. It comes when it chooses to and leaves at whim. Not that people do not perform otherwise. But, when in 'the zone', peak performance is effortless. Actions flow most naturally, and invariably the 'right' action is taken without having to think of one's actions.
What characterises this state? There is no fear of losing. There is no desire for success—fear of losing goes hand-in-hand with the desire for success. There is no overconfidence either. Basically, the mind is in abeyance and hence is not interfering in the moment, thus allowing the brain and body to function seamlessly together. The 'chattering me' is absent. There is no confusion over what to do. There is no stress. There is total clarity for optimal response.
All these are just words and do little justice to the beauty of being in the zone. In fact, we all have glimpses of this state in our everyday lives, but it mostly goes unnoticed and unappreciated. Can one bring about this state at will through superior psychological training? For one, this state exists only in the moment. Skill is being expressed to the fullest without the 'what should be' or 'how to respond' dialogue going on in the mind. The chatter or the 'me' is not in control of the moment. So, can the 'me' be trained to be absent? For that, one needs to find out why the mind constantly chatters. The chatter is always about how things ought to be or what went wrong, and how it needs to be corrected. And this comes about as a result of one's experiences.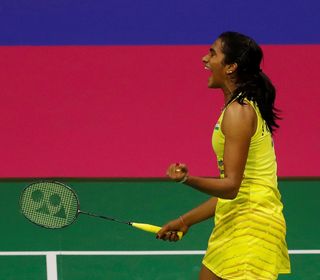 Suppose one has lost a match and meets the same opponent the next time. The past interferes and it leads to the chatter which takes the focus away from the moment. What if I lose again? What if I am unable to execute my plans this time as well? Experience, stored as knowledge, is really the cause of fear and anxiety. Can one put one's experience in abeyance? I have noticed that being aware of one's chatter, helps in bringing into focus the moment for what it is—a fresh opportunity for a new response.
Experience interferes in the moment and is the reason for fear and anxiety, which leads to sub-optimal responses. Invariably, our mind is focused on achieving the end goal, which takes it away from the moment. It does not matter whether the goal is just ten seconds away in a 100m sprint or is 2.5 hours away in a marathon. The moment is all there is.
Ashwini Nachappa is a former athlete