On July 20, Governor John Kasich of Ohio formally announced his plans to join the Republican nomination race for the 2016 presidential elections. Kasich, considered to be a formidable candidate with an impressive résumé and known to be close to the Republican establishment, announced his bid at the Ohio State University in Columbus. On any given day, news media covering the nomination race would have given Kasich wall-to-wall coverage, but unfortunately for him, it was the day Donald Trump chose to tear into Republican Senator Lindsey Graham, displaying in public the senator's phone number and revealing that he had sought Trump's help many years ago, for an introduction to get into the Fox television circuit. Needless to say, while Trump dominated airwaves, Kasich was lost as a footnote on the day's headlines. For better or for worse, it is Trump season in US politics.
Trump, 69, is a real estate developer and a television show host with an estimated personal worth of about $10 billion. Four years ago, he had considered joining the Republican field to challenge Barack Obama, but later backed out. He has now made a dramatic re-entry to the Republican field. Although no one took him seriously to begin with, Trump now leads the 16-member Republican field, leaving behind establishment favourites like Jeb Bush, brother of former president George W. Bush and Wisconsin Governor Scott Walker.
A Washington Post-ABC News poll held last week, puts Trump as the first choice for 24 per cent of Republican voters. With hardly any political or policy credentials, Trump has made it to the top by virtue of his outrageously controversial statements alone. He launched his campaign at the Trump Tower in New York with a xenophobic tirade against the Hispanics. "Mexico is sending to us people that have lots of problems. They are bringing drugs, and bringing crime, and their rapists," he said. While he drew a lot of flak for his comments, it now seems that Trump chose his target audience well.
Trump's relentlessly shrill anti-immigration rhetoric has made him the favourite candidate of the conservative Republican base, which loathes undocumented immigration. Moreover, he puts across his views in the most politically incorrect manner as possible, stopping just short of outright racism, which enhances his appeal among large swathes of white collar Republicans.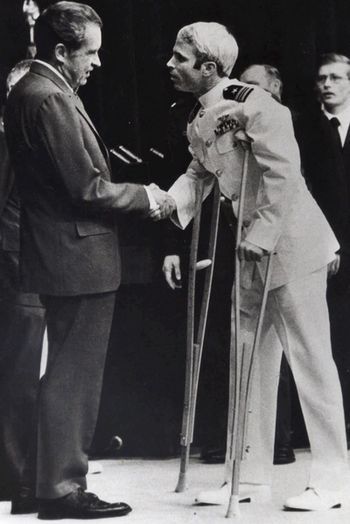 Trump's irreverence towards everything hitherto considered sacrosanct is possibly another factor which attracts his supporters. His attack on Senator John McCain of Arizona, a decorated Vietnam veteran, is a case in point. He said he did not consider McCain a hero because he got caught as a prisoner of war. Although it came from a man who dodged draft on flimsy grounds and stayed out of Vietnam, it did not seriously hamper his prospects, at least immediately. Opinion polls held a day after his remarks on McCain showed that the dent in his ratings was less than three per cent.
And, Trump was unrepentant although he was criticised by nearly everyone, including the other Republican candidates and even Democrats. He followed it up with a newspaper op-ed further criticising McCain and fellow presidential hopefuls. "The reality is that John McCain the politician has made America less safe, sent our brave soldiers into wrong-headed foreign adventures, covered up for President Obama with the VA scandal and has spent most of his time in the Senate pushing amnesty. He would rather protect the Iraqi border than Arizona's," wrote Trump. "A number of my competitors for the Republican nomination have no business running for president. I do not need to be lectured by any of them. Many are failed politicians or people who would be unable to succeed in the private sector."
For the media, Trump's controversial outbursts make saleable copy and viral clippings, prompting non-stop coverage. The media coverage and attacks by his political foes and friends have aided Trump so far. "This is branding that he could not spend all $9bn of his money to buy. The ultimate one percenter is now being branded as a man of the people," said Steve Deace, a conservative radio host from Iowa. With the media focusing all its attention on Trump, the other Republican hopefuls are gasping for space and attention, choking their campaign. Over the past week, the campaigns of all other candidates, too, have been dominated by Trump. Kasich, Walker, Bush, Graham, Marco Rubio, Chris Christie and others have not been able to speak to the media about their agenda as they always had to answer questions about Trump, much to their exasperation.
Yet, Trump's brief stay at the top could be drawing to a close. An opinion poll conducted by the Public Policy Polling on July 22 showed that Trump's double digit lead has come down to a two-point lead, which is well within the margin of error. It showed Trump with 19 per cent votes, Walker with 17 and Bush with 12. He has, however, threatened to run as an independent or a third party candidate if the Republican party was "not fair" with him. If Trump can retain his present popularity, his independent run would almost certainly ruin the chances of the Republican candidate.
Stuart Stevens, a top strategist for Republican candidate Mitt Romney in the 2012 elections, however, said it was doubtful whether anything that happened in July, six and a half months before Iowa [the first Republican caucus], would have much consequence in a presidential race. "Patience is one of the great undervalued virtues in politics. June was obsessed with a jail break; July is Trump. Given the calendar this cycle, the race will start for real after New Year's bowl games," he said.
That could well be the case. Four years ago, towards the end of July, the leading Republican contenders were Michele Bachmann and Herman Cain, both with extreme views and who loved spewing racist vitriol. They did not last for more than a couple of months. Trump could go the same way despite his considerable advantages of personal wealth and name recognition.
For the Republican Party, however, the 2015 surge of Trump and the similar performances by Bachmann and Cain four years ago, calls for introspection. The extremist Tea Party movement had cost it dear in the last presidential election cycle and Trump's performance shows that the support for xenophobic policies are on the rise among the party's core support base. The Hispanic immigration to the US is a reality and the party knows that if it has to win the presidential polls, it needs to carry along the Hispanics.
The Republican establishment has realised this, but it has not yet been able to disseminate this message to its core supporters or rein in ticket hopefuls to toe the party line. The changing demographic pattern of the US is reflected in the presidential elections, which were once dominated by the Republicans. While the Republicans had seven presidents after World War II: Truman, Eisenhower, Nixon, Ford, Reagan and the two Bushes, the Democrats had only four: Kennedy, Carter, Clinton and Obama. What is alarming for the Republicans is that since 1992, the Democrats have become far more competitive and seems to be winning more easily and the Hispanic support is a major reason for this.
The challenge for the Republicans is to win over the support of the Hispanics, but without alienating their core base. Otherwise, they may keep on winning House and Senate races, but presidency may stay beyond their reach in the foreseeable future.