Jagmohan Dalmiya's demise leaves Indian cricket in mourning. Here was a man who, till the very end of his life, had his love for cricket and, more importantly, the welfare of the entire cricketing fraternity entrenched deeply in his heart.
Cricketers are measured by various parameters. Number of runs scored, number of wickets taken, at home or away, in difficult situations, covered pitches or uncovered, with a helmet or not, so on so forth. But an administrator has no such opportunity and one's work is always bound to be overshadowed by the glitz and glamour of the on-ground activities. But Jagmohan Dalmiya made his mark in his own way.
Hard work, perseverance, ability to think about what nobody thought before, tread paths which could only be traversed on the basis of one's belief and, most importantly, keeping in mind the well-being of the fraternity were some of the characteristics that took Dalmiya to the top of the cricket world. That he earned universal accolades as an administrator speaks volumes of the man's calibre.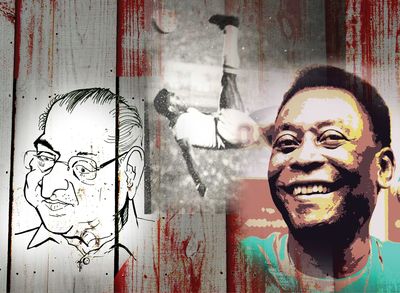 I have very fond memories of Dalmiya. He saw me grow up. It was always a special bonding which I shared with him. As the captain of the Indian cricket team, I always found him at my side with a very open mind and this gave me the confidence to chase my vision. Some memories remain deeply etched in mind for life and so will Dalmiya.
Kolkata's dampened spirit, courtesy Dalmiya's demise, should be lifted thanks to the visit of a certain Edson Arantes do Nascimento, popularly known as Pele. The world hails him as 'The King of Football'. From his debut in 1958 to date if someone remains at the helm, one has to appreciate the magnitude of the person. When Pele played I was not even born. When he visited Kolkata in 1977, I was not of the age to be in my proper senses. But as I grew up as a passionate football lover, the name Pele was very often heard. There are hundreds of stories about Pele which one got to hear in the passionate footballing addas of Kolkata.
Pele to me is like Sir Donald Bradman, whom we didn't see play. They remain the evergreen myth of their respective games. Iconic greats, even with the passage of time, don't fade away.
I have not had the opportunity to meet my personal favourite, Diego Maradona, but it will indeed be an honour to meet in person such an iconic legend as Pele. I would share some personal moments with Pele and would basically love to know his way of looking at life, the game, how he has maintained himself at that level and what it feels to be etched in the minds of a few generations.
Pele will not play, but to be rubbing shoulders with such a great from the game, to see him with naked eyes as a football fan, will be a moment to cherish for me as well as the football crazy Kolkatans.