When I sit down to write this piece, the Test match in Adelaide between Australia and New Zealand has come to an end. Australia won the match in a well contested game. But, to me, more than the win, the first ever day-night Test match with the pink ball is not only historic but a beginning of a new revolution in world cricket.
I have always been a huge supporter of Test cricket, because for me and other players of my generation, Test cricket was the ultimate. It gives immense satisfaction to an individual when one gets wickets and runs at the Test level much more than in the shorter formats of the game. In terms of status and respectability amongst the cricket fraternity of the world, Test runs and wickets stand out. There have been some outstanding shorter format players who didn't get that much of success in Test cricket and I am sure they would have longed for it to happen in the bigger format.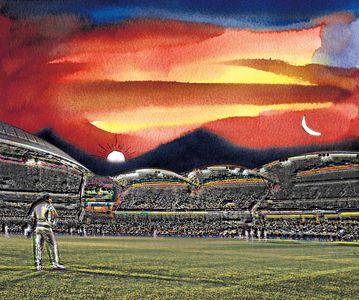 There have been some marquee Test series like the Ashes in England and Australia, the India-Pakistan series, and the India-Australia series. These matches have attracted crowds in their respective countries but there have been a lot of other series which have just gone by without even being noticed. The history of the Ashes, the quality of excitement of India-Australia matches and the rivalry of India-Pakistan matches have kept people going.
Test cricket in England and Australia survived, first of all, because the respective countries marketed the Test matches well. There were marquee Test matches on Boxing Day and New Year and at the Lord's cricket ground which were not to be missed. This had gone to such a stage that in the subcontinent, especially in Sri Lanka, Abu Dhabi, Dubai and India, there were questions raised about holding bilateral Test series. Even with broadcasters, there were issues of ratings in day Test matches and approaches have been made to the International Cricket Council about finding a solution to the issue.
I was fortunate enough to be part of the Marylebone Cricket Club committee. The committee consisted of some amazing cricketers who have been champions in their era. This hugely successful day-night Test match must have brought a smile to the Mike Brearley-led cricket committee. Adelaide is a very small city in Australia, although a very historic one. It has been the favourite venue for a lot of players in the world. The wicket has been an absolute belter and has produced tons of runs and some exciting cricket matches as well. I have been fortunate enough to participate in a few, like the match where we beat Australia in 2003.
For me this day-night Test is here to stay. It will revolutionise Test cricket and bring people to the grounds after a long day of work. It will bring kids back to the grounds and increase their interest in the game. I am waiting to see the first day-night Test in India … and to me that is not far away.