How can anybody write an 'objective' obituary about someone who has been a lifelong crush? I was Shashi Kapoor's fan girl from the moment I made his screen acquaintance. And remained a mushy admirer till the very end. There are movie stars. And then are perennial matinee idols—men whose appeal extends well beyond their screen characters. Kapoor was just that. A suave, charming, debonair and polished Cary Grant of the East. A man so distractingly, blindingly good-looking, it was impossible to keep ones knees from buckling in his presence. If he was aware of his lethal charm, he certainly didn't show it. Perhaps, he was too refined to display male vanity openly, unlike most of his contemporaries, and certainly, all modern-day heroes.
Nobody has told these narcissistic men how unattractive they make themselves to women by their self-obsession. But here was Kapoor, with his impeccable lineage and enough talent to keep him right on top of the heap for years, showing admirable modesty when bombast was the order of the day. It was his self-deprecating wit and an easy, laid-back attitude that kept him grounded and real, through good and bad times.
As the tributes started to pour in right after his family announced his death on December 4, at age 79, I went into nostalgia mode, trying hard to focus exclusively on the Kapoor we instantly recognised. The drool-worthy actor at his prime, working in an array of projects in India and around the world. Remembering him at his physical best in films like Heat and Dust, and earlier in Hermann Hesse's Siddhartha. I wanted to block out the images of his recent and rare public appearances—a forlorn, tragic figure slouched in a wheel chair, his once beautiful eyes puffy and grief stricken. I preferred to cling on to the visual of an Adonis, romancing beautiful ladies in countless forgettable films, while still managing to inject humour and dignity into the worst-scripted roles. That is what professionalism is about. And Kapoor exuded it—quietly, minus pomp and ceremony.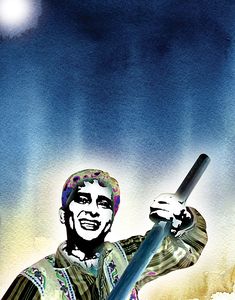 Prithvi Theatre remains a permanent legacy of a cherished dream he shared with his late wife, Jennifer Kendal. She belonged to an extraordinary family of English Shakespearean actors, who spent their lives travelling across the world staging plays in schools, colleges... anywhere. I distinctly recall their performances in my old school, with a young and beautiful Jennifer playing Ophelia, while her father, mother and sister, along with an efficient backstage assistant, enthralled awestruck schoolgirls with their impeccable accents and polished performances. That assistant was a besotted young man called Shashi Kapoor—third son of the great thespian Prithviraj Kapoor! There he was, handling props and costumes, in order to win over his lady love and her family. He was born in 1938, and married his dream woman in 1958. The Shashi Kapoor-Jennifer Kendal love story has few equals in Bollywood. When she passed away 33 years ago, much of him died with her. He was never the same man again. His hair turned grey, his eyes lost their sparkle, and some say, he lost the will to live altogether. With Jennifer to look after him, Kapoor led a disciplined life. She made sure he controlled his notorious Kapoor appetite for food and alcohol, and looked after his health. With her gone, loneliness and a heart that never quite healed took their toll on an actor who had worked in over 175 films, some of them mega hits. Soon, the offers dried up, visitors vanished, and the children grew up and grew away, as adult children do and must.
Kapoor was in a league of his own. With his passing, Bollywood has lost a class act. My daughter Avantikka remembered meeting him as a little girl at a splashy 'Stardust' party, and how he had treated her like a lady, and extended the same level of attention and courtesy as he had to all the top heroines swarming around him, hoping to catch his eye. That's the mark of a true gentleman. RIP Kapoor.
www.shobhaade.blogspot.com