A ravishingly beautiful young woman, with fresh mehendi drying on her palms, walked up to me at a high-profile wedding in Udaipur recently, and whispered, "I am Aishwaryaa...." She wanted to take a picture. I assumed she was the bride's best friend. The next afternoon, as I was leaving a hotel, a lady sweetly introduced herself with a cheerful, "Hello! I am Mrs Rajinikanth... you met our daughter Aishwaryaa yesterday." Goodness! How did I not connect the dots?
We spoke briefly and promised to catch up later that night during the wedding ceremony at the Jag Mandir. Chances of running into one another in a 1,000-plus crowd appeared remote, but voila, there they were! Aishwaryaa, a picture of beauty and grace in a cream-coloured sari, her amma, in a bright Kanjeevaram, and accompanying them were Aishwaryaa's two sons.
"We meet again!" I exclaimed as I greeted the beauteous Aishwaryaa. Mother and daughter mingled unobtrusively among all the high-profile guests. There was no attempt to seek extra attention or get preferential treatment—such a contrast to the large entourage that accompanied Bollywood star Salman Khan, who stayed for about ten minutes and caused maximum havoc. I marvelled at the modesty and genuine humility of these two ladies who were there minus the fuss. They are Rajinikanth's closest family members! Rajinikanth, who occupies a galaxy of his own! I asked them about Salman's dramatic entry and they smiled, and answered, "We don't need all this..." Frankly, nor does anybody else!
Aishwaryaa Rajinikanth Dhanush grew up with a legend. She sent me her first book with the intriguing title, Standing on an Apple Box. And I read it in one go. It is an account of her transition from being labelled a superstar's daughter, later a superstar's wife, to the person she is today—an award-winning director, a writer and a UN-appointed advocate for gender equality and women's empowerment. It is a commitment she shares with her mother, who has been working tirelessly to establish child rights and protect abandoned children.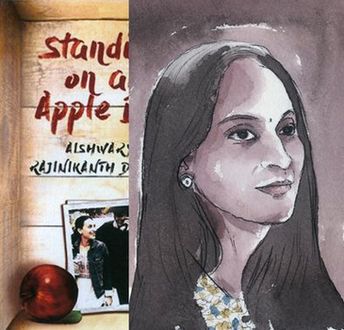 Her chapter titled 'Childhood friends', opens with these lines, "You don't need to be a celebrity child to know the dangers of having the wrong friends or the pleasures of a good one. As kids, my mother surrounded my sister and me with people she trusted, so nobody could take advantage of us."
There is something very vulnerable and fragile about the woman who is passionately pushing the causes she believes in, like the ambitious trilogy she has undertaken, which follows the lives of unsung heroes in the movie business—stunt choreographers, junior artists and back up dancers. She admits her appa did not want her to be in the movie business having seen its 'dark side'. But here she is, teasingly saying, "Little did he know my sister and I didn't want to be among the ship's crew, we wanted to captain it!"
Am I surprised? Naah. Aishwaryaa is a New Year baby—a number one. Natural born leader. In the book, she repeatedly credits her parents for shaping her values, "My parents and grandparents never let me feel inferior because I was a girl child.... my sister and I were brought up to be independent." Combine that with her disarming confession that the first time she acquired a designer handbag was when her husband, Dhanush, bought her a Louis Vuitton.
We said our goodbyes in the hotel lobby the next afternoon. Aishwaryaa was pretty designer-ed up this time and looking like a tiny, exotic bird behind her shades. We hugged and kissed... and she bent to touch my feet! I grabbed her just in time and said, "Stoppppp!" She is the one on that apple cart, remember? I am a mere movie-goer, staring at the big screen waiting for the stars to cast their spell.
www.shobhaade.blogspot.com