When I started playing tennis more than two decades ago, the professional game in India, especially in the women's category, was in its infancy. Not many cared to play or follow and there were no stars or role models in our country for us kids to copy, admire and grow. The facilities were inadequate, to put it mildly. Decent quality courts were almost impossible to find and the road to success was hazy with no clear guidelines to work on.
For someone like me who was absolutely in love with the game and ambitious enough to dream of even playing at Wimbledon, the path to success had to be created through trial and error and there was nobody who had done it before to guide me.
As the years rolled by, there was much to learn from my travels for tennis, from international coaches and trainers, as also from my own personal experiences. For a long time, I felt the urge to write a book which would be my story but more importantly would serve as a roadmap for the next generation of tennis players. That is how the idea of writing my autobiography took shape.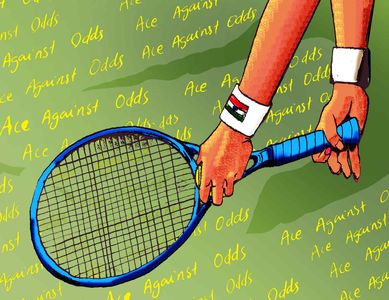 Over the years, I realised that when I answered questions from the media on various issues, it was in many cases the views of the questioner on my thoughts that were ultimately reported rather than what I had actually said or wanted to communicate. As a result, there are certain truths that never made their way into the public domain. I found this frustrating at times and the idea of writing a book, that was purely my own point of view, gathered steam.
I started work on my autobiography—Ace Against Odds—nearly five years ago. I could have completed it a long time ago. However, my life and career continued to take dramatic turns which encouraged me to delay the publication of the book until I had accomplished most of what I had set out to do as a wide-eyed, young tennis player. I hope to achieve a few more goals before I am through with the game but I consider now to be as good a time as any to express my side of the story.
A lot of sweat and blood from my entire team needed to be shed before I could achieve the number 1 ranking in the world in women's doubles tennis. Several hurdles had to be overcome before I could win six grand slam titles. Many of these have been documented in my book.
It has already been 23 years since I first held a tennis racquet in my hand and there is so much that I have learnt about the game during this period. I have tried to share my experiences in the book and hope that they will help the upcoming players and their support teams to be better equipped to handle the difficulties that come their way. Of course, every person faces different kinds of challenges in their lives but if Ace Against Odds can help at least a few top level international tennis players to emerge from our country, I will consider myself truly blessed.