The Australian Open has given me great memories that will last a lifetime. It was here, in 2005, that I played my first Grand Slam tournament as a wild card entry in the women's category, went on to reach the third round and played against Serena Williams for the first time. After a nervous start, I managed to play a competitive second set which earned me respect not only from my famed opponent, but also from critics and fans back home in India.
I have won some memorable matches in Melbourne; one of them being the clash with Victoria Azarenka in 2006. It was here, in 2008, that I played my first Grand Slam final, in mixed doubles, with Mahesh Bhupathi as my partner. Though we lost the match, we came back to win the title the following year at the Rod Laver Arena in Melbourne. This is when I became the youngest Indian Grand Slam champion.
Apart from this famous victory, I have won a lot in Australia, which is perhaps responsible for making it one of my favourite countries. Partnering with Rohan Bopanna, I did not lose a mixed doubles match in the two years I represented India in the Hopman Cup in Perth. I won a junior doubles tournament in the quaint little town of Traralgon when I first toured this wonderful country. And, I remember staying in a caravan which was also a unique experience for me.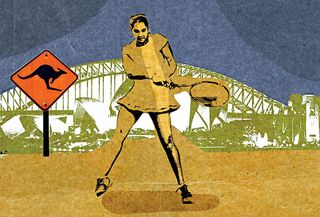 I have travelled to Australia almost every year since my first trip in 2002. During this period, I have found Australians to be extremely likeable people and have realised that they have a sporting culture that we could learn from. They play hard on the field, but are very respectful and friendly off it. In tennis, they have a system in place through which retired veterans play a prominent role in guiding the next generation of stars. I am sure a similar system exists in cricket and other sports, which, I believe, is how Australia continuously churns out champions and world beaters.
The crowds are supportive of their own stars, no doubt, but they also appreciate great performances by the opponents. This is an endearing quality that I have learnt to respect and, in some way, has inspired me to reserve my best performances for tournaments in Australia.
Last year, Bethanie Mattek-Sands and I had won the doubles title in Sydney, but 2016 has been, by far, my best year in Australia. My partner Martina Hingis and I not only swept the Brisbane and Sydney tournaments, but also added the prized Australian Open women's doubles trophy to our collection. This was the kind of year that would have made Tony Roche, the Australian legend who coached me in 2005, very proud of me.