My doubles partner from Czech Republic, Barbora Strycova, and I have now played four tournaments together and won two of three finals. It has turned out to be a very successful partnership and we look forward to riding the wave to a few more titles.
There are many factors that work in the success of a doubles team in tennis, and one has to carefully consider these while choosing a partner. Barbora is an advantage court specialist. Since my powerful forehand makes me a natural deuce court specialist in doubles, it is important to always look for a partner who is comfortable on the other side of the court. A team comprising two forehand or two backhand court players rarely wins consistently. All the players with whom I have enjoyed success and won most of my 40 professional doubles career titles have been ad court specialists. This includes Martina Hingis, Cara Black, Elena Vesnina and Bethanie Mattek-Sands.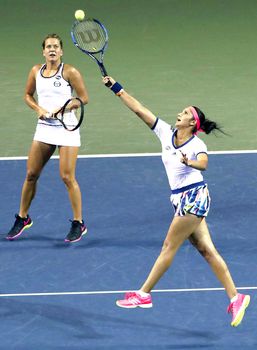 Once the choice is made, of course, it is important to constantly make mutual adjustments to complement each other's strengths and weaknesses. This is an ongoing process and, naturally, the understanding and comfort level grow over a period of time. Like me, Barbora loves to fight through tough situations and that is an important element of our partnership that works well for us.
The doubles game in women's tennis has changed drastically in the past few years. One needs to constantly adapt to the changing times to remain successful or even survive in this competitive field. There was a period when the most successful teams were those who volleyed proficiently at the net. Cara Black and Liezel Huber were masters at this and dominated women's doubles with their reflexes and volleys until teams that played a different brand of tennis, like Errani-Vinci and Safarova-Mattek-Sands, took over the mantle with their emphasis on all-round game.
Today, to succeed in doubles, a team not only needs to volley efficiently but also requires a strong baseline game along with sharp groundstrokes, serves and returns. A weakness in any single aspect often signals doom. Barbora possesses an all-court game and this has worked to our advantage. Luck, too, plays an important role in picking the right partner, as one needs to find a player who complements one's own style of tennis at the precise time when she, too, is looking for a change. Timing is crucial, as no one likes to tamper with a winning combination.
But, perhaps, the most important factor that works in the success of a doubles team is the absolute trust, faith, respect and camaraderie that need to exist between the two partners. In my opinion, this is the key to the success of a combination. Two great players rarely, if ever, make a good team. In the course of matches, there are several difficult moments where it is this trust, faith and camaraderie between partners that sees them out of the woods. It is this X factor that makes all the difference between winning and losing.
editor@theweek.in