Professionals all over the world, who play tennis for a living, do so with single-minded focus. Consistency, fitness and strategy are the keys to longevity at the highest level. One needs to be extremely committed to survive on the tour and, unless one has a passion for the game, it is difficult to achieve continued professional success for a significant length of time.
The welcome break recently in Hyderabad was refreshing and I wish I could spend some more time with my family. After barely a fortnight at home, I am now back on the circuit to resume battle on the tennis courts of Australia. I was always fascinated by the sporting culture of the Australian people and have thoroughly enjoyed playing the game hard, which is how they play. Yet, off the field, I have had the most endearing friendships with my fellow competitors from Down Under and there has always been a lot of mutual respect.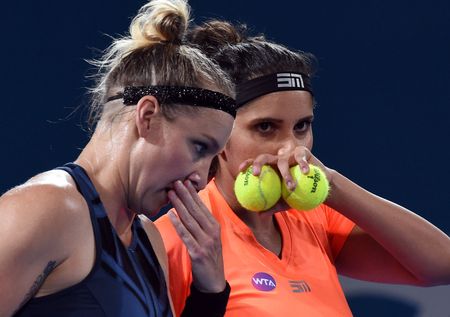 This is my 15th year as a professional tennis player and I consider myself extremely fortunate to have been blessed with a long career, especially in a sport where even talented, world-class players seem to disappear from the radar rather frequently. The past two years have proved to be extraordinary for me and several records have come my way. My sustained performance helped me join a band of an elite few who have had the privilege of being ranked number one in the world for every week of the calendar year. I managed to do that through the year in 2016 and I also stretched my reign at the top of the women's doubles game to 90 weeks. This could well have been a time for me to relax, look back at what I have managed to achieve and to enjoy the fruits of my success.
However, we professionals are never satisfied with our performances and the zest to achieve more and more success remains fresh in our psyche. It has been four years since I gave up playing singles after a series of injuries that led to surgeries, but I would like to add to the 40 professional titles that I have won so far in my career in doubles and to win a few more Grand Slams before I am through with tennis. It is this ambition that drives me and keeps me motivated to strive for results.
This time last year, Martina Hingis and I were going through the most fruitful part of our combination, when we won 41 matches in a row. I defended the Brisbane title with Bethanie Mattek-Sands as my partner before joining hands with regular partner Barbora Strycova in Sydney and for the Australian Open in Melbourne. I have had great results with both girls and hope to add to my collection of trophies while partnering with them in Australia and beyond.
My dear friend Ana Ivanovic has recently, and quite suddenly, announced her retirement from tennis, and it is a rude awakening to see one's peers hanging their rackets at an age when most careers in other sports would just be starting out. We have known each other from the junior days and the striking Serb, who beat me on the way to her only Grand Slam title at the French Open, has opted to bring an end to her career that once saw her reach the number one ranking in the world. I will miss her on tour but wish her the best as she begins a new chapter in her life.
editor@theweek.in