I think 2015 was in many ways as perfect a year as one can ever have in a sport like tennis, so I consider myself well and truly blessed. Winning ten doubles titles including Wimbledon, US Open and the WTA Finals in Singapore is something that most tennis players only dream about.
The year-end rankings have now been announced by the WTA and I will end 2015 as the No 1 doubles player, while my partner, Martina Hingis, will be at No 2. For 31 weeks now, I have retained the top rank. Another honour awaits: In a few days I will equal the great Lindsay Davenport's record of being the number one women's doubles player for 32 weeks in a row.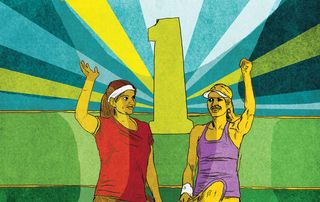 Happily, Martina and I also finished the year as the top doubles team in the world and this is proof of our complete domination over all opposition ever since we teamed up for the first time in Indian Wells in March. I am fortunate to have found the ideal partner in Martina, who perfectly complemented my game.
Playing and winning so many matches during the year comes at a price. I feel battered, after pushing myself to the limit to snatch victories from difficult situations like the Wimbledon final. I will need to rest and then physically re-build to, hopefully, add a few more titles to my name in the coming year.
Tennis is an unpredictable, challenging sport and one can never look too far ahead. Nobody knows this better than me as I have had so many ups and downs in my career. Five years ago, I had almost reconciled to giving up the game after the intense pain in my playing hand persisted for several months, despite wrist surgery. I did make a comeback, only to get my second knee operated upon less than a year later. It had seemed like the end of the road again, and yet I was blessed with the strength to fight my way back.
When I eventually quit this game, which has been my life, I will have to admit that I am one of the very fortunate few to have achieved most of what I had ever dreamed of doing even as a little child. And, I shall remain ever grateful to the Almighty for that.