November and December are the months when professional tennis players get a break from world-ranking tournaments. This in no way means that it is a complete holiday, as a lot of work needs to be put in to prepare ourselves for the coming year of professional tennis.
For a few years, Mahesh Bhupathi, Rohan Bopanna, Purav Raja and I would get together for a month of intensive training along with a bunch of talented, up-and-coming young players in Bengaluru or Mumbai. However, since the inception of the Sania Mirza Tennis Academy in Hyderabad three years ago, I have done my off-season training on my own courts. It allows me a chance to spend some days sleeping in my own bed at home. That is a luxury that means a lot to me.
Olympian Robert Ballard of Australia travelled with me for a few months on the WTA circuit. He spends a fruitful four weeks, each year, working with me and a few youngsters from my academy on our fitness. He is one of the best trainers I have ever worked with and must rank among the top men from his profession. The strengthening of the entire body with special emphasis on the core is what we aim to do during off-season training. Robert's immense knowledge and vast experience are something that I rely on completely. It is the hours of hard work that we put in punishing our bodies that goes a long way in protecting us from injuries in the following season.
It is not just on the physical front that we focus on during this period. Working on our tennis is of prime importance as well. Playing a series of exhibition matches in three cities in India, in which legends Martina Navratilova, Leander Paes and Mahesh Bhupathi played with me, was fun. It was also an interesting way to gradually get back into competition mode.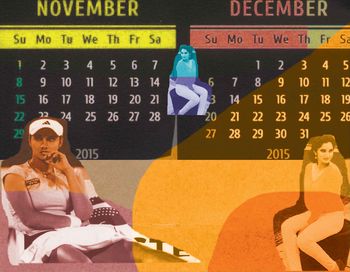 Hosting one of those matches at the Sania Mirza Tennis Academy was a great honour and a means of spreading the game in our country. Watching the legends playing on Indian soil has to be an inspiring experience for promising youngsters who were fortunate to witness the live action in Kolkata, Hyderabad and New Delhi.
We will now move on to the next level of competitions. The International Premier Tennis League gets under way, with our first stop in Japan. Competing against the best men and women tennis players of the world in an exciting format of the game is probably the ideal way to prepare for the new season. I am looking forward to playing for the second year in a row for the Indian Aces and it will be a challenge to repeat our title-winning effort of 2014. To partner a player of the calibre of Rafael Nadal will be as exciting as it was to play with Roger Federer last season. There is so much that one gets to learn from these living legends.
The IPTL bandwagon travels to Manila from Japan and then moves on to New Delhi, Dubai and Singapore. The tournament is spread over three weeks. I will be left with barely a fortnight after the end of the league before the 2016 season starts off with the run-up tournaments to the Australian Open.
No doubt, I have had an amazing 2015. It will not be easy to better my performance of this year. But I believe I still have a few more years of top-class tennis left in me. I will look to add a few more memorable wins to my career.