The game of tennis is the fulcrum around which my life has revolved ever since I was a little girl. I first picked up a racket almost a quarter of a century ago and I have dedicated myself almost completely to this great passion of my life.
Tennis has been a beacon that has influenced so many major decisions of my life. It has given me so much and it is virtually impossible to imagine life without this wonderful sport. I consider myself very fortunate to have been blessed with the opportunity to professionally pursue a sport that is exciting, super competitive, globally loved and obsessively followed all over the world.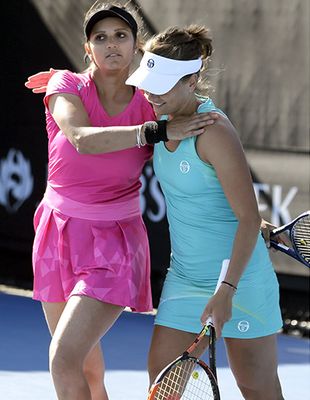 Of course, for me, success in tennis has come at a price and I will ever be grateful for the sacrifices and untiring efforts of my family, who have put in so much effort and guided me on this slippery path of professional sport. The game has given me name, fame and respect, but most importantly, it has given me the opportunity to serve my country in my own small way. It is a matter of immense pride and honour to represent India and my people in the far corners of the world and to watch the smiles on the faces of my countrymen every time I win an important match, a tournament or a championship.
Tennis gave me the chance to travel to more than 50 countries in the world and to explore, understand and cherish the global cultural diversity that exists and flourishes. The experience has broadened my horizons and given me a well-rounded perspective of the world. It has been my endeavour to give back to the game in whatever way I can for everything that it has given me.
The Sania Mirza Tennis Academy that I have established in Hyderabad is a step in that direction and the goal is to provide the next generation of players a realistic chance of succeeding in professional tennis.
I have been writing this column for more than two and a half years now. It gave me the platform to share some of my experiences with the readers. I hope I was able to provide an insight into the wonderful world of tennis. In my concluding column, I would like to thank the publishers for giving me this opportunity. Of course, I will continue my efforts wherever and whenever I can in my endeavour to inspire the next Grand Slam champion from India.