I have always enjoyed playing on the hard courts in the US. Over the years, I have achieved some of my best results in this country. I am delighted to have experiencead an amazing month on the American circuit—Martina Hingis and I have managed to conjure up some magic playing together as a team for the first time. In the process, I have also achieved another significant personal milestone by winning my 25th Women's Tennis Association doubles title.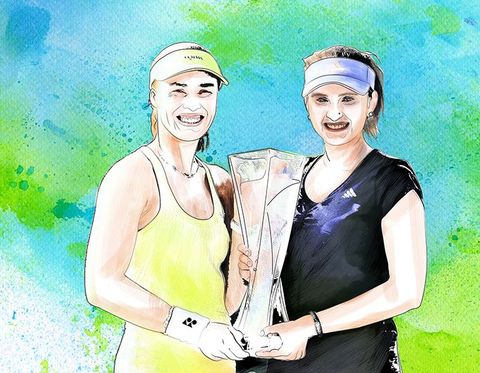 The BNP Paribas Open in Indian Wells and the Miami Open in Florida are two of the most prestigious tournaments in the world. Indian Wells has always been a happy hunting ground for me—playing four finals in the last five years at this venue bears testimony to my fondness for the stadium. But winning titles in consecutive tournaments and not dropping a single set in ten matches is the kind of stuff sporting dreams are made of. It is, indeed, a heady feeling to be living this dream.
My on-court chemistry with Martina has been instantaneous and the results speak for themselves. Her world-class backhand and uncanny court craft have been a perfect foil for my strong forehand. We are already being talked about as the most dangerous team in the world of women's tennis. We have got along famously off the court as well, and having a great personal equation can sometimes be of immense help in overcoming difficult situations in tight matches.
It is satisfying to have worked my way up from the time when, as the lone, unheralded Indian in the Junior Grand Slams, I had consistently struggled not only to find a good doubles partner but also to persuade some of my foreign peers to practise with me. Indian girls were not even considered good enough to hit with while preparing for important tournaments. A prominent coach, who saw me play at the Wimbledon junior championships, regarded me as someone who had "no clue about doubles". The journey from that day to today, when I have reached the number three ranking in women's doubles, has been a long and arduous journey that I take personal pride in.
I had proved the know-it-all coach wrong not only by winning the Junior Wimbledon but also by finishing as the number one junior doubles player among girls.
Amazingly, the top spot among professional women's doubles players is now within striking distance. If I can achieve that for myself and for my country, it would be the icing on the cake. I have been blessed with a wonderful career, especially in a sport in which nobody believed an Indian girl could ever compete with proficiency at the international level.
editor@theweek.in