If a political wrong was being imposed on us by a tyrannical government, surely we would stand up for what is just, and join the good guys rather than the collaborators? Certainly we might like to think we would have been on the right side of history, but again and again, accounts of the historical past show that many people will go along with the prevailing power and do whatever they can for an easy life.
This was brought home to me by some recent writings on the 40th anniversary of the Emergency. The simple version of those days is that Prime Minister Indira Gandhi, under the malign influence of her son Sanjay, browbeat the Congress party into endorsing dictatorship until the people of India voted en masse to bring it to an end. But when it was taking place, those who dared to oppose the government faced a dangerous and very uncertain uphill struggle. L.K. Advani has recorded in his prison diaries how legal processes against the detention of politicians would be blocked by nervous judges, and newspapers would be stopped from publishing proper news. It is interesting that Advani in his writing and Gandhi in her speeches both accused the other side of being essentially fascist.
In a recent memoir, The Emergency, Coomi Kapoor describes how people would cross the road rather than risk talking to someone who was suspected of being a dissident. She states that the numbers imprisoned across the country "far exceeded the total number jailed during the 1942 Quit India movement." Her husband, Virendra, had been arrested under MISA, and Kapoor's trips together with her young daughter and nieces to see him in jail make for painful reading. In March 1976, he was transferred to Bareilly and kept in solitary confinement in leg irons. Many political prisoners believed they would end their days there. The reaction of most members of the government or civil service during the Emergency was to keep quiet. Kapoor secured a meeting with a junior minister, Pranab Mukherjee, who "was polite and accepted a summary of the case. But I heard nothing further." Even when Virendra Kapoor was released, "most journalists at the Press Club shied away from talking to him." The friendly ones who kept him company, it turned out, were reporting their conversations to the CID.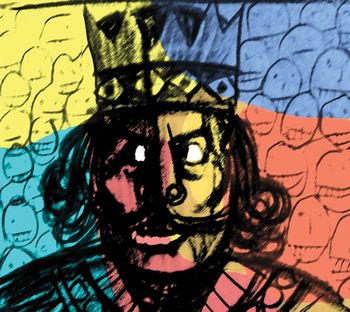 When the general election of 1977 was held, it is significant that the wipeout of the Congress was restricted to parts of India where coercion had been strongest. In UP, where large-scale forcible sterilisation had taken place, the Congress lost every seat in the state, while in Andhra Pradesh they retained all but one. By this stage, more and more people were realising just how violent and widespread the suppression had been. Although it remains legally possible, no prime minister today could declare a state of emergency and get away with it: technological change means that information about what was taking place would leak across India and beyond much more quickly. Opponents of such a move would be in a significantly more powerful position.
It is worth noting how many contemporary national politicians in different parties were formed in one way or another by the Emergency. Lalu Prasad named his daughter Misa after the law he had opposed. Arun Jaitley spent more than a year and a half behind bars. Ambika Soni was a close ally of Sanjay Gandhi. Subramanian Swamy, travelling incognito to escape arrest by the police, would back in those days be met at a railway station in Gujarat by a young pracharak from the RSS, Narendra Modi. It all seems so long ago, and yet so recent. As an influence upon a generation who today are in senior posts, the Emergency was a defining historical moment.