During last year's general election campaign, travelling the length and breadth of India for THE WEEK, I came across some extraordinary sights. One of them was Arvind Kejriwal attending a Rs.20,000-a-plate fund-raising dinner for the Aam Aadmi Party at a smart hotel in Bengaluru, some distance from his natural political homeland. Before that day, I had a degree of admiration for his chutzpah and ambition, but after seeing him in action I became rather suspicious. Whenever the name of a minister was mentioned, Kejriwal would fling out an automatic accusation of corruption, and promise to purge the dishonest and return the nation to firm administration. I realised then that he was a dyed-in-the-wool protestor, and his interest lay not in good governance, but in the act of protest itself.
Today in Britain, we have our very own Arvind Kejriwal in the form of the newly elected leader of the Labour party, Jeremy Corbyn. The leader of Her Majesty's Opposition is an old-school English rebel, famous in the 1980s for turning up in Parliament in scruffy clothes and for giving a platform to the Irish Republican Army at a time when they were fighting the British state. A peace campaigner, voluntary worker and dedicated 'anti-fascist', Corbyn was so famous for standing up for rebellion that it seemed there was no alternative cause he would not support. In 2006, he signed a petition complaining "the Tamil Tigers (LTTE) are banned as a supposedly 'terrorist' organisation across Europe." In 2009, the veteran leftist MP Tony Benn wrote in his diary that Corbyn and his ally John McDonnell were going to be expelled from the party for repeatedly voting against the government. But today, Corbyn leads Labour and McDonnell is his right-hand man and shadow chancellor of the exchequer.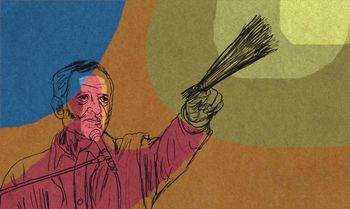 Although Corbyn is a hero to people who are anti-politics and believe his radical dismissal of traditional ways will solve everything, his problem is that he does not know what to do with his newfound power: he is the dog that caught the car. During his first days as leader, he attracted most attention for giving senior positions exclusively to men, for failing to wear a suit when asking questions of the prime minister in parliament, and for refusing to sing the national anthem at a ceremony commemorating the Battle of Britain in World War II. He may be anti-globalisation, anti-bankers and anti-war, just as he is pro-people, pro-sincerity and pro-high levels of government spending, but in practice this does not add up to a policy.
Instead, it is a form of politics that values protest for its own sake, like Kejriwal with his repeated agitations. When the Delhi chief minister and his deputy, Manish Sisodia, sat on dharna at Jantar Mantar earlier this year to protest against the Centre's ordinance on land acquisition, it was obvious they were happier there than governing. As a campaigner, the options are so much more glamorous than the dull, daily task of making hard decisions and sitting down to govern, with all the pressures and compromises that come with elected authority in an imperfect world.
This week, Corbyn was expected to speak at the annual conference of the Institute of Directors, which offered him an ideal platform to reassure British business that he had a stable economic policy. But he did not turn up, claiming "other commitments". Meanwhile, his own MPs are figuring out how to unseat him. The real worry is not individuals like Corbyn or Kejriwal, who like to be behind the barricades rather than in government. Rather, the danger is what may follow them, what foul dust floats in the wake of their dreams, and what measures people could vote for in the future when they realise that idealism alone does not produce results.