Earlier this month I had a strange experience: I spent an evening in a graveyard with a group of people I did not know. Some of them seemed familiar because they are public figures, like the presidents of Germany and Ireland, the British and Belgian prime ministers, the Archbishop of Canterbury, the future monarch Prince William, his wife Kate Middleton and his brother Prince Harry. I was one of around two dozen people who had been invited to the ceremony in Belgium because a forebear was buried in the cemetery.
Called St Symphorien, it is one of the only burial grounds from World War I where the dead from both Germany and the British Empire lie alongside each other. We listened while a choir sang specially composed music, actors read from the letters of those who had died in 1914-1918, and military representatives from both the winning and losing sides took part in ceremonial commemoration. Prince William told us that our ancestors had met 100 years ago in war, but now we were gathering together in peace. The theme of the event was that Europe had allowed itself to be caught up in two terrible world wars in the 20th century, and each nation had to make sure such events would never be repeated. The German president gave a moving speech, admitting it was "completely unjustifiable" for his country to have started the conflict by invading Belgium, a neutral nation. Across Europe, and particularly in the UK, similar events of remembrance are being held.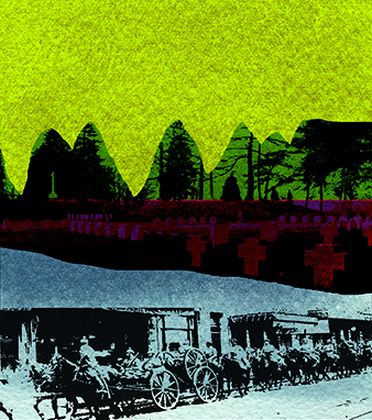 So far as I am aware, no Indian politician or government representative has attended a commemoration, although undivided India contributed 13 lakh soldiers and workers to World War I. Without the arrival of Indian troops in France in 1914, the German advance would have knocked out the British Expeditionary Force and the course of the war would have been different. For soldiers who fought in the distant lands of Europe, Africa and West Asia, the experience of this huge, industrial war was devastating. A Pahari jawan, Amar Singh Rawat, writes home after the bombardment in the Battle of Neuve Chapelle: "When we reached their trenches we used the bayonet and the kukri, and blood was shed so freely that we could not recognise each other's faces."
Why does the Indian state avoid remembering World War I, an epoch-changing global conflict? In short, because the idea of numerous volunteers fighting for the British empire challenges India's nationalist historical narrative. It is easier to remember one Bhagat Singh than the 1.5 lakh soldiers who were killed or wounded in the Great War. But volunteering came in many forms: some men were press-ganged or sold into the army by richer neighbours, others were fighting for their 'honour' or out of loyalty to their local ruler or to the King Emperor, others for economic reasons, or because they believed it might hasten self-rule. We cannot fully understand what made earlier generations do as they did. Whatever the rights and wrongs of World War I, the experiences of the many Indians who took part deserve to be remembered.
My own relation who is buried in the quiet graveyard at St Symphorien is my grandmother's only brother, Maurice Dease, a young Irishman who died in the opening engagement of the war and won the Victoria Cross. It appears he saw no contradiction in being a committed Irish nationalist and fighting for the British empire. Who knows what his personal motivation was for signing up with an English regiment and going to fight 100 years ago? We must not allow our own historical perceptions to get in the way of the sacrifices of the past.
Follow French on Twitter: @PatrickFrench2