When I was researching the biography of V.S. Naipaul, The World Is What It Is, a decade or so back, I globetrotted to many places in search of people and documents that could illuminate his varied life. In Trinidad, in England, in the US, in Argentina, I collected scrappy letters, diaries, photos and even school reports from his teenage years as a student in the Caribbean. When I reached India, you will not be surprised to hear that I met individuals who had fascinating stories about how they had gone tiger hunting with Naipaul in the 1960s, or argued with him over the Emergency in the 1970s, or taken him to meet Bombay gangsters in the 1980s. But when it came to documents―nothing. Not one person in India, not even the late, great Khushwant Singh, had kept their correspondence with Naipaul all those years ago. (That's not quite true: I was given one transcript of an old letter, which had been reproduced in a magazine article years before.)
India does not tend to preserve its written archives well. There may be cultural reasons for this, since unlike other countries there is little social pressure to maintain historical records. In addition, there are practical explanations: the combination of heat, pests and dryness makes old documents liable to crumble to the touch. I was once working in the National Archives of India on Janpath, examining a ledger which contained maps and letters between the 13th Dalai Lama and the Viceroy Lord Curzon from around 1901. Silverfish had got into the ledger, and the combination of their handiwork and an overhead fan left me covered in a layer of white dust and the paper in ruins. In recent years the National Archives, under its director-general Mushirul Hasan, has much improved.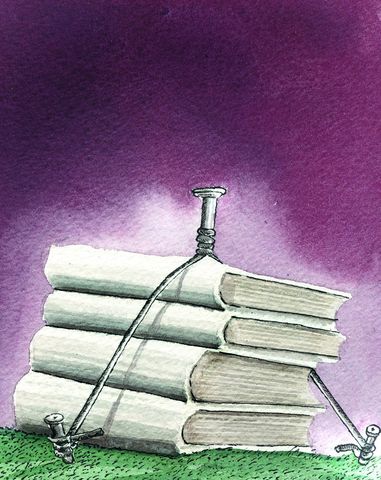 The Harvard scholar Dinyar Patel suggested a few years ago that there was "a colossal stumbling block toward proper historical preservation in India: a dearth of public activism, support and interest, even amongst the educated and affluent". He described a researcher visiting a Mumbai library and discovering that the staff there were selling off a copy of John Locke's An Essay Concerning Human Understanding―published in 1746―for the price of only 40 rupees.
Yet for all this, India has an extraordinarily rich and important history of written scripts, covering many different languages and dating back centuries. India was also, particularly in the 18th century, a global centre in the development of the printing and publishing industry. A London bibliophile who is currently selling a wonderful collection of antique Indian books and newspapers, John Randall, tells me that at the time of the French Revolution, Calcutta produced more newspapers than any other city in the world. Expatriate Europeans were desperate for news, and they had the money to own printing presses. Busily, they cannibalised the foreign newspapers that arrived by boat, and turned the city into a vital home of commercial publishing. This activity was soon replicated by local people, and with it came the birth of the Bengal Renaissance.
It remains hard for a historian, particularly of the post-independence period, to access official records in India. Even some pre-1947 'confidential' material on matters such as Indian nationalism remains closed to public access. More often than not, the material that a researcher is seeking to access either has been destroyed or remains closed to readers for no good reason.
Not long after Narendra Modi became prime minister and instituted a cleanliness and efficiency drive, it was reported that the home ministry had destroyed more than a lakh of files that were "gathering dust" in North Block. Nobody would blame the bureaucrats for cleaning up their offices, but I for one would have relished a chance to look at the old files before they disappeared forever.
Follow French on Twitter: @PatrickFrench2