Saving human life is one of the most righteous acts that one can ever consider in one's lifetime. Organ donation makes it possible for an individual to get involved in this selfless act of saving human life. Your eyes can make a person see the world and certain organs can make a person breathe and so on.
Organ donation is a noble act in which the organs are transferred from one body to another. In most cases, the donor chooses to donate his organs after his death. The purpose of organ donation is to help someone in need. Transplantation of organs from one human being to another has always been written about, talked about and debated—intensely. A patient with kidney failure can at least live with dialysis till an organ becomes available, but for a patient with liver or heart failure, the only hope of living may be to have an immediate transplant. We are not doing enough to help these critically ill patients, whose number is constantly on the rise.
Almost 1.5 lakh people in India need a kidney transplant, but only 3,000 of them receive one. Ninety per cent of people on the waiting list die without getting an organ. India's annual liver transplant requirement is 25,000, but we manage only about 800. The wait list for patients is growing all the time. Likewise, India is yet to have adequate skin banks in the country. With exceptions, everyone is a potential organ and tissue donor after death.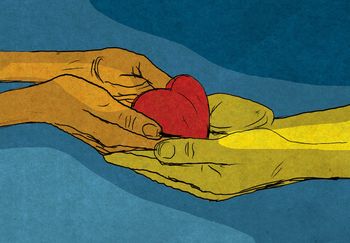 A patient who is brain dead is in an irreversible state and is totally dependent on a breathing machine and has constant need for medications to keep the heart and other organs functioning. In this very tragic situation, before the machines are switched off, the doctors can discuss with the relatives the option of organ donation. The emotional upheaval of death is the most difficult to overcome, and the relatives might find it difficult to accept the notion of organ donation. However, most people donate the belongings of their loved ones after their death. Organ donation also should be considered in the same light and spirit. It is the noblest of all donations. The act is as holy as holy can be, as it gives a fellow human being a chance to live.
Transplant surgery is indeed cutting-edge. The capability of successfully doing multi-organ transplant surgery can lead to research breakthroughs and help standardise our hospital practices.
India has legislated the concept through several acts of Parliament. Since health is a state subject, steps for prevention and control of any illegalities are required to be taken by the state governments. The Transplantation of Human Organs Act already has provisions for imprisonment for up to ten years and fine up to 01 crore for illegal transplants. However, the enforcement and monitoring of the provisions of the act are within the remit of the respective state governments.
While there are plenty of compelling reasons to donate organs, an important reason is self-satisfaction. The fact that you are involved in such a noble act is something that is worth appreciating. Being aware of the notion that your organ donation can save a life can make you feel good about yourself. The three things you can do at the outset is to register your decision, record your decision and ensure that your decision is known to your family and dear ones. Help your family and friends understand and remember your decision. It is important for your family to be aware of your wishes, as without their consent your organs cannot be donated.
forthwriteml@gmail.com