Winter has to be my favourite season! As much as for the cool morning breeze and the Tabebuia rosea in full bloom on nearly every Bengaluru street, carpeting the sidewalks and roads with their shocking pink, as it is for the turn in the vegetable season. It is also the time of year when the generosity of my clientele is on full display, with almost daily arrivals of boxes which have a sampling of home-cooked food.
Mutton curry in a light coconut gravy from a family in Chikmagalur, Mangalorean pork pickle from a Christian family in Benson Town, Christmas cakes that started their journey several months prior with the ceremonial mixing, now in pretty cellophane-wrapped squares, smelling rich with the rum-soaked raisins, sultanas, orange peel and spices.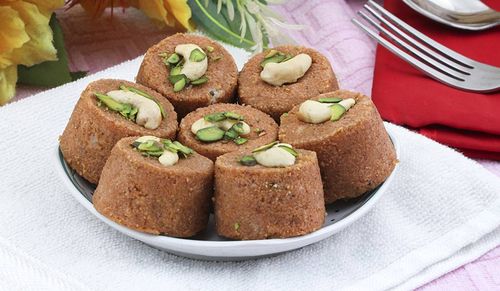 Winter also brings back memories of cold Delhi winters, with the markets bustling with fresh yellow heads of cauliflower, shiny carrots, turnips, beets and, on occasion, parsnips and black carrots—which would then be processed, sun-dried and made into pickles in gigantic jars to last through the rest of the year before the next winter. There was almost always a waiting list for these with the extended family, and with good reason; they were utterly delicious.
Winters would also be the time when one of our most cherished treats would be made available by my Punjabi maternal grandmother. A pinni (almost like fudge) but not made with lentils, as is common, but with atta instead. The proportions of dry fruits to atta and ghee were almost obscene, so rich were these. With the addition of Gond (resin), cardamom and some jaggery, these were also nutritional powerhouses for a pack of fast-growing and very active grandkids, who would be allowed only one healthy chunk a day, and only in winter.
The Kayastha side would indulge us with gazak and revdi (sesame and sugar treats), and that was all the energy one needed. Another thing she made, which was always for the grown-ups, was the black carrot Kanji, with a really heady kick of black salt, mustard and chilli. I only took to it much later in life as the taste could be quite overwhelming.
Another one of the best parts of winters was the greens in all forms. This is one trend I'd love to see return to menus at homes and restaurants; and that was to use the tops of root vegetables. At Toast and Tonic, for example, we make sure that our winter root vegetables are always bought with the tops, which then find their way into the whole menu in many ways. Radish greens in salads, beet greens in soup, kohlrabi greens in pasta and sweet potato greens in the risotto. Even the stems of greens are so delicious at this time that they are chopped fine and mixed into bread dough. Winter gives one ample opportunity to experiment with many ingredients, which are seasonal and incredibly nutritious, in forms that we may have not tried before.
Winter has so much to love, and such few words to express it in.