While writing this piece, I did some research, trying to determine the per capita consumption patterns of meat eating in the country, only to find that the data was largely scattered, and often contradictory. The pattern across studies roughly pegged the per capita consumption at nearly five kilos, which seems like nothing when compared to Ireland's fifty kilos. But, is it?
When one looks at it purely from a demographic perspective, and also given the fact that a majority of the country eats animal protein in some form or another—nearly 60 per cent as per an article in The Hindu in 2014, titled 'The meat of the matter'—the volumes are staggering.
India continues to be the largest exporter of bovine meats, despite the recent implementation of consumption bans in many states. Post liberalisation, and with the subsequent density swelling in urban centres, meat consumption has only seen a rapid rise. While chicken remains the most popular meat across the country, it is also exported in very large numbers to the Middle East and Africa. Nearly all mutton produced in India is consumed within the country, and pork remains dominant in the northeast states, where livestock accounts for as much as 18 per cent of the agricultural output.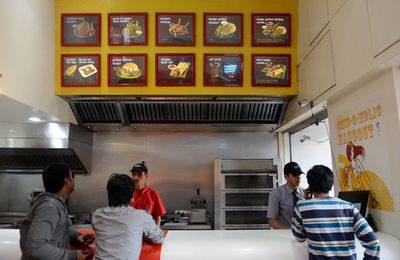 The proliferation of non-vegetarian restaurants, the chicken tikka, biryanis and even pizzas and nuggets, is there for all to see. Coupled with the notion, for a young generation bent on building their bodies, that white meat and eggs will help bulk faster, the demand has probably never been higher.
Much of the meats are dispensed and retailed from small stalls, like they have been for decades, with carcasses displayed visibly and the hack-hack on a big log, or giant cutting board. Many places offer the chicken freshly killed, and, depending on religious requirements, there are halal and jhatka options too. Much of it can seem rather gory, but that's how it's been done. Large institutional players have made their presence felt in the markets, notably in the poultry sector, like Godrej, Saguna and Zorabian. Add to that the inclusion of meat shelves with processed and fresh cuts on supermarket aisles.
The bigger cities have always had their go-to meat shops like Bamburies and Lusitania in Bangalore, Pigpo in Delhi's zany Jor Bagh market and Green Chick Chop in Green Park.
There are now a string of startups offering precut and portioned chicken, fish, goat, pork and even buffalo; notable among them are Licious, Brown Apron, Freshtohome and Big Basket. They've clearly seen an opportunity for a burgeoning urban populace who wants the convenience of having hygienically processed and pre-portioned cuts delivered to their doorstep, away from what was once the fly-infested shed in the local market.
Will this be the new way meat consumption is pushed in urban centres? Given that many have also started offering recipe kits and tips on how best to utilise the proteins, the aspirational value of these has gone up exponentially. With the skinless, boneless, tasteless basa fish also entering the health-conscious eaters' plates (basa is now produced locally too) the trend for hassle-free meat eating is evident; one I reckon will only drive the consumption up. It may be a good idea to consider meatless Mondays, but that's for another article.