I had recently written about the increased dependence on single strains of wheat and rice, and the prevalence of a monoculture in our food systems and habits. The continued use of single hybrid strains, engineered for higher yields and to be more resilient to diseases, is causing the body to react to wheat in ways it did not earlier.
While coeliac disease is a serious condition caused to individuals who are genetically indisposed to wheat, there are now enough indicators that coeliac-like conditions can be triggered in other individuals too, through consumption of wheat-based products. This is known as Non-Coeliac Gluten Sensitivity and is being seen a lot more frequently now.
There are unfortunately some who consider gluten-free food some kind of fashionable trend. They have also taken it upon themselves to announce that they are intolerant of gluten because gluten-free diet is healthier. This is a prevalent request often seen at restaurants. I for one would ask them to exercise caution, and meet their doctors to determine if any such sensitivity exists before self-diagnosing.
I had also mentioned the need to move to more diversity in diets, by bringing in other forms of carbohydrates which are gluten free and also nutritious. Millet is a natural answer, given its easy availability, and is in dire need of a revival. It is also an established source of great protein, fibre and minerals, and keeps your metabolism in great shape. There is plenty of research on, some of which has chefs involved too, about how it can be used in mainstream techniques, which is necessitated by a burgeoning urban market.
Meanwhile, I would like to present a gluten-free hack of sorts on a flour mix that one can easily make and store at home. The marvellous thing about this mix is that it mimics regular flour almost exactly while baking confections. So, for those who found that getting cakes, muffins, cookies, brownies, etc, gluten-free was impossible or expensive, this mix is the ideal solution. It cannot be used in breads or rotis, of course, but once we have a good base to work with, a little experimentation can go a long way.
The recipe is courtesy J. Kenji López-Alt from his brilliant website called Serious Eats, which researches food in the most glorious of ways. Do read it when you get some time. They have named this recipe IiF Flour, named after their blog Ideas in Food.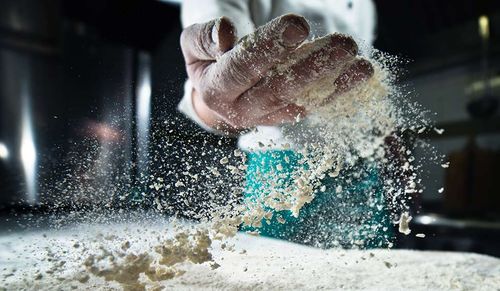 IiF Flour
700 grams corn starch
450 grams tapioca starch
450 grams white rice flour
200 grams brown rice flour
200 grams non-fat milk powder
20 grams Xanthan gum
(easily available on Amazon)
Mix all these together thoroughly in a bowl, whisk them vigorously till they are almost homogenised. Put small batches in a mixer and grind till you have a fine flour-like powder. Repeat with the rest of the flour and then combine them again in a bowl. Pack them in 500 gram packets and store.
You now have an easy way to bake at home without having to worry about gluten. Simply substitute flour in any recipe with this IiF Flour. Happy baking!