Sumdorong Chu was to Rajiv Gandhi what Doklam is to Narendra Modi. How they respectively faced the challenge is an object lesson in how to run and not run foreign policy.
Within days of becoming prime minister, with the largest majority in the history of Indian democracy, Rajiv Gandhi made it clear that he would be taking a major initiative to break India-China relations out of the 1962 syndrome. However, a Chinese incursion into the Sumdorong Chu valley threatened to upset the initiative even before it got underway. Rajiv not only ordered the Indian armed forces to stand firm, he flew to Thimphu to reassure the Bhutanese that their territorial integrity would be guaranteed. Bhutan remained steadfast, trusting India.
While the military confrontation remained unresolved, Rajiv let it be known that, Sumdorong Chu notwithstanding, there were much larger stakes involved in radically altering India-China relations. Special emissaries were exchanged. Diplomatic wires were kept humming. The Indian ambassador in Beijing, C.V. Ranganathan, arguably the most knowledgeable expert on China of his generation, was fully in the loop. It was generally believed that 1988 would be the breakthrough year.
I was, therefore, somewhat intrigued when I was asked to add Itanagar to an Aizawl programme, both cities to be covered, effectively, in a single afternoon. That was a logistical nightmare, especially given the paucity of night landing facilities in the north-east, but we eventually succeeded in solving the Sudoku puzzle of getting Rajiv there and back. What puzzled me was, I was given no hint of why Itanagar had to be added to Aizawl in a single day's trip. The purpose of the Aizawl visit was clear enough: Lal Thanhawla was back as Congress chief minister, and the Mizo peace accord of 1986 was yielding full fruit. So, Rajiv would be announcing the upgrading of Mizoram from a Union Territory to a full-fledged state. But, why Arunachal in such a tearing hurry?
At the public rally in Itanagar, I took my usual stand at the foot of the podium and was thoroughly alarmed to hear Rajiv announce full-fledged state status to Arunachal as well. So, as soon as we boarded the aircraft at Dibrugarh, I took the liberty of barging into Rajiv's cabin to ask why he was jeopardising his visit to China. Rajiv beamed back: "You know, Mani, if we don't know where our borders lie, how can we expect the Chinese to know?"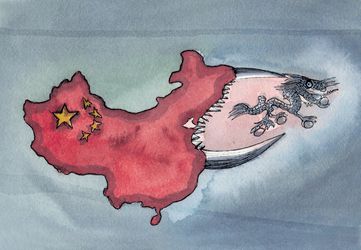 There were the ritual protests from Beijing—but preparations for the historic China visit went on. Sumdorong Chu was not allowed to come in the way of Rajiv fetching up at the Great Hall of the People to a handshake with Deng Xiaoping lasting all of eight-and-a-half minutes for the whole world to see that something fundamental had changed. The path to peace and tranquility at the border was opened. So was sustained dialogue between special envoys to resolve outstanding border questions. Nearly three decades on, that is what inures us from Doklam getting out of hand.
Then, what is different now? For one, Modi has not cared to rush to Thimphu, to reassure the Bhutanese and secure their informed consent to the action we are taking. Second, Deng knew Rajiv was acting in, and, only in the Indian interest. The Chinese do not know at whose behest Modi is operating. He has made us part of the encirclement of rising China. He has contemptuously overthrown non-alignment as the template of our foreign policy. He revels in his role as a "major defence partner" of the United States. He has embraced a most hawkish government in Japan. Russia has been foolishly alienated. He has been needlessly rude to the Chinese over their pet 'One Belt One Road' project. He has impotently railed against the CPEC. China is no longer behind the Himalayas; they are now at the banks of the Indus. Boy, are we in trouble!
Aiyar is a former Union minister and social commentator.