I arrived at the Porter's Lodge, Trinity Hall, Cambridge University, arranged for my trunk to be lifted to my room on B staircase, washed and descended into Front Court. It was about 6.30pm on Tuesday, October 8, 1961. Two South Asian fellow-students walked up to me. One of them, Khurshid Mahmud Kasuri, was destined to become Pakistan's foreign minister (2003-08). Decades later, Khurshid told me he had sought me out because he had never met a Hindu in his life. I replied that he had picked a rather poor example!
We became life-long friends. He took me to the house in Lahore where I was born. He has attended weddings in my family in Delhi and I have attended his family weddings in Lahore. I have always stayed with him in Lahore, on one occasion with a TV crew from NewsX—that he misheard as 'new sex' and remarked, "Mani hasn't changed, even at seventy!" When our Cambridge class celebrated its golden jubilee, Khurshid and I were the star turn, with a magnificent blow-up of the two of us in the alumni magazine, The Cam, and together, as a double bill, we were invited to share our thoughts on India-Pakistan relations. Our audience was taken aback to discover how largely we were on the same page.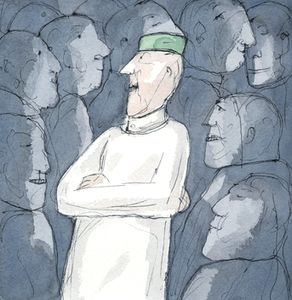 Khurshid is the best friend India has ever had in Pakistan, certainly the most influential best friend. It was he, as Pak foreign minister, who brought us to the brink of a mutually agreed, mutually beneficial settlement of the Kashmir issue. All that remained was for a few i's to be dotted and a few t's to be crossed when the Pervez Musharraf government ran into turbulence and Mumbai 26/11 followed. Whenever Indo-Pak talks are resumed, the four-point formula mid-wifed by Khurshid will surely be the point of departure.
He told me about a month ago that he was coming to Delhi on December 6 to attend a wedding in a relative's family. I suggested we have our usual convivial get-together. I decided to spice it up by inviting about 15 top-level India experts on Pakistan. The purpose was to give Khurshid full exposure to informed Indian perspectives and concerns. So, I included the former prime minister and vice president of India among my guests. I brought in two former foreign ministers, one each from the Congress and the BJP. The latter got held up in a demonstration in Vidarbha at the last moment. I asked a former army chief and a former foreign secretary. I also invited four former high commissioners/ambassadors and two of the most distinguished diplomats the Indian Foreign Service has ever seen. I then got hold of two renowned journalists and one of India's most prominent defence analysts.
We also had the newly appointed Pakistan high commissioner who has never had any India-related experience before, and is diffidently learning the ropes. He pleaded he would not speak, especially as Khurshid sahib would be holding the fort. And after every Indian had had his say, I invited Khurshid to respond. He did so with his usual panache but not before one of the participants had bluntly told him that so long as snatching Kashmir from us was Pakistan's bottom-line, there is little point in a dialogue.
The prime minister was at the time fighting for his political life in Gujarat. He suddenly conjured up the idea that this was a "secret" meeting, a "conspiracy" with Pakistani agents to unseat the BJP and bring in—horror of horrors—a Muslim Congress-man as chief minister! P. Chidambaram has described the PM's behaviour as "bizarre". Karan Thapar said his "allegations and suspicions are not just malicious and delusional, but utter nonsense (Indian Express, December 11)." He added, "While seeking to defame Aiyar and his guests, he's actually demeaned himself." Need I say more?