It is rare in India to have social classes mixing for pleasure. Whether it is in a political rally or in a wedding, in theatres or at films, in circuses or in shops, the classes remain apart. Cinemas and theatres have differential pricing that ensures this. In political rallies, the who's who are seated in demarcated enclosures. So it was a thrill for me to see, every night for 12 nights, Ahmedabad's top industrialists, page three gentry, police commissioners, teachers, local shopkeepers, slum dwellers, Jains, Bohras, Muslims, Parsis and Hindus, all sitting next to each other, cheek by jowl, shoulders touching and knees brushing. All immersed and lost in the wonder of a happening that bound them into a single entity: the Ahmedabadi.
Ahmedabad has a long history of 604 years. It has been home to many dynasties of many faiths, most of whom have left a positive mark. Foreign travellers talked of it centuries ago as the rich jewel of the land. Many women, from Noor Jahan and Princess Teja to Madame Montessori, Mrinalini Sarabhai and Kumudini Lakhia, have left their imprint on the city. But the prosaic teaching of history, our disinterest in our past and the current propensity of taking one convenient portion of history or the life of one single person, and pretending that it is the sole glory of our heritage, have kept the real, moving, soul-stirring and joyous tales of the city hidden. And that is what we brought to the table in our production called Kadak Badshahi.
Directed by Yadavan Chandran, Niserg Trivedi and myself, the production is a whimsical, magical putting-together of strands from the many centuries of the city. Real people mingle with historical characters―architect B.V. Doshi is interrupted by Sir Barrow Helbert Ellis who, in 1892, built the city's first bridge across the Sabarmati river. (It was named after him, although the city rulers have since renamed it Vivekananda bridge.) Ellis tells Doshi of how British engineers failed to build it, and a local contractor called Himmatlal Bhachech not only built it but also saved and returned a quarter of the money allocated. In parting, Ellis jokingly asks Doshi, "Don't we wish builders were as honest today?" The audience, builders included, roars with glee.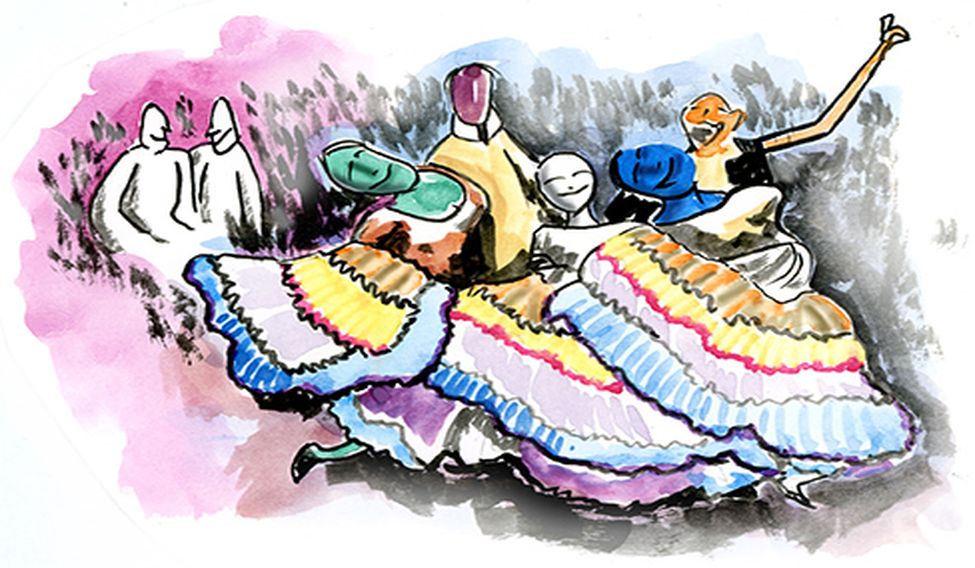 The show has everything: dance, music and a gadhvi bard linking scenes, actors, puppets and projections that make the audience wonder where they are, and artists like Amit Ambalal creating live paintings around historical characters, framing them as they speak. The narrative is non-linear and often surrounds a monument across centuries.
Never in the history of the city or the state has a performance run for 12 days continuously to packed houses, with several hundred people being turned back every day. What then is the magic of the show? We live in dark times. Aggression, greed, worry and stress are our daily bread. Competition haunts us, as does the fear of failure. Films often bring out the basest in us. There is little left that is a universally 'feel good'. Kadak Badshahi managed to be that. Every member of the audience goes home with a smile and a wet eye, with nostalgia and love for a city they did not know but now own proudly.
This is a performance that needs to be seen by every Ahmedabadi here and abroad. In any other place, the city and state authorities would take it on as a permanent fixture to run every night or every weekend, for tourists and students alike. But here? I wait with bated breath.
editor@the-week.com