Having worked as a publisher of Inside Outside magazine for many years in the 80s, I am well aware that buildings that photograph well don't have to be good or efficient or comfortable to live in. It's a bit like the sexy clothes one sees in photos or on the ramp; they can be hellish to wear in real life. Likewise, buildings that are branded as sustainable and green are most often not green at all. Awarded the LEEDS platinum, gold or silver standards, they may be green for the US where the standard was developed, but certainly not for India, where the buildings are being built.
And that is why architects Parul Zaveri and Nimish Patel developed Hamarewala Green. This Ahmedabad-based couple were studying sustainable and appropriate architecture decades before the need to do so was felt by much of the world. In the late 70s and early 80s they were studying with Paolo Soleri in Arcosanti, and then understanding the mud buildings of Ghana, still standing after centuries.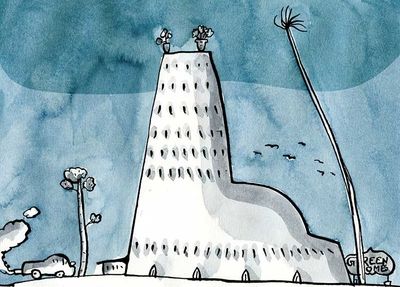 For their practice they set down some rules. They would focus on India's own needs, not those of any other country. Solutions would need to be found from our resources, not those from another country. Ways needed to be found to decrease consumption levels. Our traditional knowledge combined with a new perspective and innovation could provide solutions that would be cost-effective and give work to crafts people and indigenous building related occupations. Common knowledge and common sense needed to be brought to the table rather than experts. Short-term solutions were to be avoided. They wanted to work towards building responsible environments rather than style statements. And they wanted to be part of a nation-building exercise.
Over a three-decade-long practice, they have consistently done this, and proved again and again that their set of guidelines can and must be followed for conscientious architecture.
Conservation of resources is a prime focus when they design. But they understand that innovation has to be a continuous process and that looking towards tradition does not mean a lack of change. In fact they reiterate that to innovate responsibly is a necessity for a developing society and not a luxury. They insist on a practice that offers opportunities for creative inputs at all levels. And keep coming back to the use of common sense as a pole star. "We need to act in a way that disseminates knowledge in re-establishing the relevance of traditional decision making processes, materials and technologies, and promote regional and context-specific bottom-up approach to sustainability," they say.
   Their varied work reflects all of these concerns. From the Samsara Luxury Resort and Camp in Dechu to the Oberoi Udaivilas that has just again won the best hotel award, to the Torrent Research Centre (a winner of many national and international accolades), to a mud house with modern  amenities, a golf course and a village school, one sees the pride in indigenous craft, the eye for detail, the regional flavour and the push towards real green. Their buildings in Rajasthan differ vastly from those being designed in the north, each reflecting the climatic conditions and craft strengths of the area. In fact, Nimish feels that schools of architecture must teach students differences in building needs and practices for the different climatic regions of India, so distinct from each other, rather than the 'one size fits all' that is taught. Without this, both feel strongly, architecture and building in India will continue being out of sync with our realities and needs, will continue aping the west and creating unsustainable and uncomfortably built environments. What they preach is what they practise, and it is there for all to see. <br>

editor@theweek.in