I once walked into the Sophia College Campus and Mother Teresa was walking among a group of students, all of whom were looking a bit awe-struck. I remember thinking: She looks like her pictures, which I suppose is a tribute to her lack of vanity and to the stupidity of my thought process.
But I came into contact with her vicariously many years later. I was walking with a friend in Churchgate Station and she was getting into the first class compartment of a local train. There on the floor of the coach was an old woman, stinking, recumbent and, obviously, not in her senses. A young woman complained to a railway policeman and he, with the solicitousness of his kind, simply grabbed her by an arm and dragged her off on to the platform. She fell and screamed.
When we went to help her up, she could not move, complaining that her back was hurt. She was, obviously, in need of medical attention, so I tried to find a stretcher. I said a woman had fallen near the first-class compartment of the train so the railway workers came hurrying up, no doubt eager for a tip. The stretcher they carried was the same one they use for the bodies of those who are hit by trains or fall off them.
No taxi would take her because she was filthy and so I had to call an ambulance. I told the ambulance to go to the nearest hospital. We tried three, the first two in the catchment area of South Bombay and the third in Byculla. They would not admit her because she did not know her name or she did not understand when I was asking her and because I was not a relative and could not sign the papers. The day was ticking by. At this time, I was a mathematics tutor and each hour lost had to be compensated for or the child would slip further and further behind her/his class, and that, in mathematics, is always traumatic.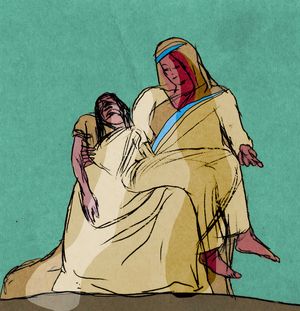 It was nearly seven thirty when I suddenly thought of Asha Daan, the Missionaries of Charity's home in Byculla. The ambulance headed there and the guard at the gate told us the nuns were asleep.
"It's only seven thirty," I said plaintively.
"They get up at four am," he said and began to open the gate.
A nun came out and looked into the ambulance. I explained what had happened.
"Thank you for bringing her," she said.
Thank you? I wanted to weep. No one had wanted to thank me up to that point. Everyone had looked down at this woman, her clothes dirty, her hair matted, her body stinking of its own wastes, and seen a problem. This nun saw someone she could help. I do not know if she saw Jesus in the old lady but within half an hour, she was washed and cleaned and in a new housecoat.
That evening, I saw her spirit in action.
PS: A week or so later, the nuns rang me up to say that they had shown her to their psychiatrist, Dr Charles Pinto (who by some coincidence was also the man who attended my mother) and he had prescribed some medicines that had 'brought her round'. She had remembered her name and her address and the nuns had written a postcard to the family, not hoping for much because many women turn up in the city with addresses and no one replies.
But another small miracle occurred. Her husband and son turned up to claim her. She had apparently suffered from what is called a fugue state and got into a train and wandered off to the city. They wrote me a postcard in Gujarati to thank me.
Pinto confesses that he often makes notes of the conversations he has with friends.